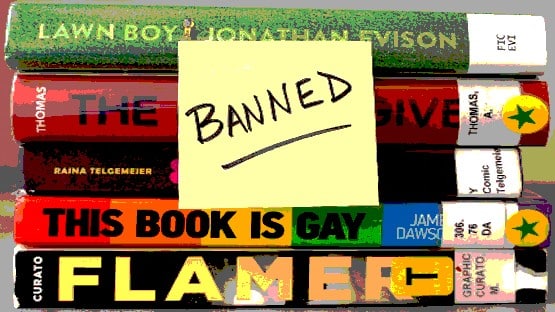 "Every day professional librarians sit down with parents to thoughtfully determine what reading material is best suited for their children's needs. Now, many library workers face threats to their employment, their personal safety, and in some cases, threats of prosecution for providing books to youth that they and their parents want to read." –American Library Association President Lessa Kanani'opua Pelayo-Lozada
The librarians are getting threats. Really?
The culture wars are leaking from metaphor to actuality.
This is not new, but the scale and omnidirectionality are quite novel. Bursts of violence, such as the 2009 assassinationof Dr. George Tiller by a rabid rightwing religious extremist who believed in killing any doctor who performed any abortions, are part of our gun-toting history.
But it all ramped up dramatically once Trump began his 2016 campaign and has gotten more contagious ever since.
"Proud Boys, stand back and stand by." —Donald Trump, calling in his troops–not the US military but a far-right street brawling group of Trump lovers, the ones who led the violence on January 6, 2021 as they attempted to prevent the peaceful transition of power that has marked the US democracy every administration change from the beginning until then.
Great going, sorest of losers Trump. Some 2,000 of your MAGA devotees invaded the US Capitol in your attempt to prevent the normal transfer of power to the winner of the election. Five died, some 140 Capitol police and other officers were injured.
Even before the January 2021 insurrection, your minions committed or credibly threatened violence in your name many times.
One special group you have targeted with your vile racist lies and insults, documented by journalist Ja'han Jones, is a distinguished group of black legal theorists and practitioners, and the result is that these brilliant members of our society get threats, including promises of death, from your followers:
Former President Barack Obama. Former U.S. Attorneys General Eric Holder and Loretta Lynch. Vice President Kamala Harris. Supreme Court Justice Ketanji Brown Jackson. New York Attorney General Letitia James. Manhattan District Attorney Alvin Bragg. Fulton County District Attorney Fani Willis. U.S. District Judge Tanya Chutkan.
One wonders how we can deal with this level of violence and threatened violence, in aggregate as nasty as the late 1850s-early 1860s leading ultimately to civil war. I mean, the National School Boards Association, representing some 9,000 local school boards in the US, wrote a letter to President Biden requesting a federal effort to deal with all the direct threats to the well-being, even the lives, of school board members across the country. How low is that?
I guess I'm just old, used to civil discourse between those with whom we disagree, and nonviolence even when we are outraged by decisions that affect our lives, our society. I cannot do much besides shake my head in disbelief when I read about all the sectors of our public under serious threat from MAGA radicals. Judges, prosecutors, local and state election workers, even the CDC and the FBI.
Trump and his appeal to the worst in people is a virus and only nonviolent people power, engaged in civil discourse but with dedicated and committed action, can move us away from this and toward the functioning democracy we have had.
Will we grow a backbone and halt this drift toward political violence?
"Every nation gets the government it deserves."–19th century French philosopher Joseph de Maistre.
Will we stand up for what we believe we, and our descendants, deserve?
Dr. Tom H. Hastings, PeaceVoice Senior Editor, is Coördinator of Conflict Resolution BA/BS degree programs and certificates at Portland State University.