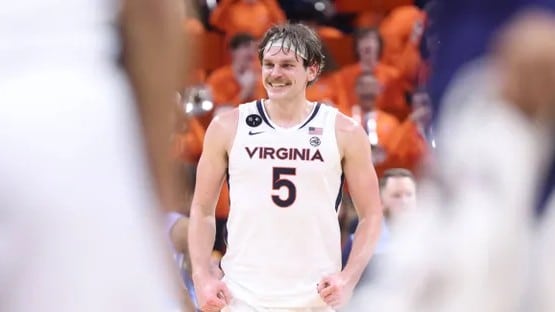 I've taken to saying, Virginia either gets the Good Vander Plas, the one who has carried the 'Hoos to at least a couple of victories almost single-handedly, or the Bad Vander Plas, who does diddly squat in his 20 minutes off the bench.
A reader in a comment section offered his take on the Dr. Jekyll, Mr. Hyde that is Ben Vander Plas – it's either Vander Plus or Vander Minus, depending on the day.
Vander Plus, the Good Vander Plas, was the one under the bandana and mop of hair, and behind the '70s porn star 'stache, in Tuesday's 65-58 win over North Carolina, scoring 17 points, 14 in the second half, and playing stellar defense at the five.
If only Tony Bennett could figure out how to tap into the GVP/Vander Plus vibe so that he'd appear more regularly.
"I mean, he's had some games that he's, you know, I don't want to say won by himself, because they're all won, but he's been the difference for us in a number of games, and in the second half, was crucial," Bennett said. "You know, part of playing, you're going to struggle, guys are going to struggle in stretches, but will you stay faithful and just keep playing and not, you know, not lose your way. And so, it was good to see that for him in the second half."
When he's at his best, Vander Plas, a 6'8", 236-pound stretch four playing as a grad transfer at UVA after averaging in double-digits his last three years at Ohio, is Virginia's Brady Manek, the grad transfer stretch four from Oklahoma who keyed North Carolina's surprise run to the 2022 national championship game.
BVP just hasn't always been at his best in the early going in his grad transfer year. The five double-digit games have been scintillating; but he's also had six games in which he has scored three points or fewer, including the double goose egg (no points, no rebounds in 17 minutes) in the 69-61 loss to Houston last month, and putting up two points and a single rebound in 21 minutes in the 68-65 loss at Pitt last week.
The Houston game aside, Vander Plas tends to be Vander Plus on the big stage. He went for 14 points (4-of-5 FG) in the 86-79 win over Baylor and eight points and eight boards in the 70-61 win over Illinois, both of those games in Vegas, put up 10 points (4-of-5 FG) in the 70-68 win at Michigan in the ACC/Big Ten Challenge, and scored 20 points in the 66-64 loss to nationally ranked Miami in December.
But after that Miami game, he went through a stretch of four games in which he scored a total of 14 points (on 5-of-18 shooting) and had 13 rebounds in 83 minutes.
It's almost like the Bad Vander Plas, Vander Minus, appears when Vander Plas struggles to get things going on the offensive end, and those struggles carry over to the rest of his game.
BVP seemed to acknowledge this postgame Tuesday.
"Everybody is always just telling me keep shooting, keep shooting, almost to the point where it gets like, I got it, guys, but now they stay on me," Vander Plas said. "And then yeah, just to see that first one go in, got a couple of free throws, and then just, once you see the first one go in, the confidence goes up."
That was apparent in the Carolina game. He missed his first two shots from the field in the first half, then bricked the front end of a one-and-one, before banging in an open three late as Virginia rallied from nine down to get to down 29-27 at the break.
What seemed to get him going was a tough backdown move into the post that he turned into a turnaround that banked in from just in front of the free throw line at the 15:31 mark.
That one got Virginia to within 36-31.
Then he drew a foul and made a pair of free throws to get the margin down to four, ahead of the shot of the night.
With the crowd sensing that a run was in progress, Vander Plas drained an open three from above the top of the key to put UVA ahead, as it would turn out, to stay, at 42-40 with 12:52 left.
Another Vander Plas three at the 9:25 mark extended the margin to 10, and later, in the game's waning moments, he stole a pass in the North Carolina frontcourt and took the ball coast-to-coast for a throwdown dunk that put the game away.
He was a game-changer on the offensive end, but it was his ability to defend the post – he held Jalen Washington, a 6'10" freshman who had 12 points on 5-of-7 shooting in the first half, to a single point on 0-of-4 shooting in the second half – that allowed Bennett to go "small."
The four-guard lineup with Vander Plas at the center spot changed the spacing on the offensive side, creating driving lanes for Reece Beekman and Kihei Clark that got the offense, stagnant to that point, rolling.
The small lineup outscored North Carolina 34-21 in the final 15:12, turning a 37-31 deficit into the seven-point victory.
"He's a big that he can cause some problems because he's a big that can shoot the ball from the outside," North Carolina coach Hubert Davis said. "You put a traditional big on him, now he has the ability to space, and in transition, he's not going to the front of the rim, he's spotting up from three, so that's different. If you put a smaller guy on him, he has the ability, he's big enough and skilled enough to be able to post up."
That's what Good Vander Plas, Vander Plus, can do for Virginia.
"He's competitive. That's one thing I have liked that about him," Bennett said. "And again, he's had some ups and downs, but he's kept on. He's gonna lay it on the line, and he wants to win, and he's about the team. So, whatever it takes, and that's how his father was. I played with his dad, so I know that. And that's, again, one of the reasons we were really excited to get him. We thought that would be a very good addition to our program."