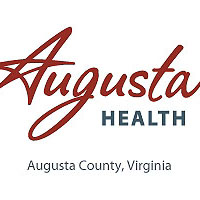 William (Bill) Faulkenberry, MD, of Shenandoah Valley Surgical Associates, has been named Preceptor of the Year by the medical students of the Edward Via College of Osteopathic Medicine (VCOM) who spent their third year clinical rotations at Augusta Health.
The award was announced at Augusta Health's Full Medical Staff meeting on Tuesday.
Preceptor of the Year, an honor voted by the students, is one who, per VCOM, provides "excellence in student clinical education".  Dr. Faulkenberry was chosen from the twenty-five third year credentialed preceptors at Augusta Health.  He received a perfect 5.0 rating by the students.  Their comments included:
"Dr. Faulkenberry was amazing at teaching us about surgery and perhaps more importantly, about being a good doctor and person for our patients.  He was very giving of his time throughout the month and also sought opportunities for us to shadow other specialties including some time with physical therapy.  I have received a very well-rounded education and feel much more comfortable with the Operating Room setting and surgical medicine".
"Dr. Faulkenberry is an exemplary preceptor, compassionate physician and an inspirational role model".
"Dr. Faulkenberry is a great preceptor!  He is kind and patient, and always willing to take the time to explain concepts to you.  He is great at helping you develop your basic surgical skills such as suturing, stapling, knot tying, etc.  He is a wealth of knowledge that will not only teach you about general surgical practices, but about medicine in general, and what it means to provide great patient care".
A Preceptor of the Year is chosen each year in each of VCOM's regions.  Augusta was a new region last year, so Dr. Faulkenberry is the first Preceptor of the Year in the Augusta region.  The Edward Via  College of Osteopathic Medicine (VCOM)  provides medical education and research that prepares globally minded, community-focused physicians who improve the health of those most in need.
With campuses in Blacksburg, Virginia and Spartanburg, South Carolina, VCOM has graduated over eleven hundred new physicians since its founding in 2001 with over 55% going into primary care specialties such as family medicine, internal medicine, pediatrics and obstetrics/gynecology.  With national award winning programs in primary care and global medical outreach, as well as a sports medicine department caring for athletes at Virginia Tech, Radford University, the 2010 Olympic Ski Team, and the PGA Greenbrier Classic Tournament, VCOM provides state-of-the-art medical education and research.   For more information on the College, please see the website at www.vcom.edu
Augusta Health is an independent, community-owned, not-for-profit hospital whose mission is to promote the health and well-being of our community through access to excellent care.  Named one of the 100 Top Hospitals in America by Thomson Reuters in both 2011 and 2012, Augusta Health has also been nationally recognized by HealthGrades as one of America's 100 Best Hospitals for clinical excellence and patient safety for the last three consecutive years, and has been name one of America's 50 Best Hospitals in 2015.
For more information about Augusta Health, its programs or its services, please contact Public Relations at 540.245.7329 or visit our website, www.augustahealth.com.