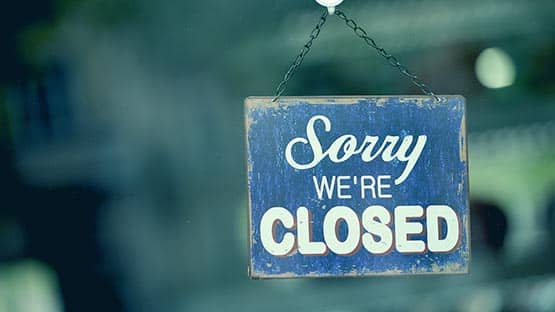 Square, an online payment processor, went offline yesterday causing numerous businesses to have to shut down operations and lock their doors.
However, according to an email sent to merchants today, "services are starting to come back online."
Square services went down early Thursday, according to merchants angrily posting to online social media platforms.
Business owners said they could not get through to Square customer service and were upset about the lack of communication. No email or automated response was sent to customers yesterday, for example, merchants said.
Many merchants said they had to close for the day because consumers no longer carry cash or a checkbook.
Late last night, Square acknowledged the issue on its Facebook page.
"We are currently experiencing issues with multiple Square services. We understand how important it is for your business that our services be up and running, and we are actively working toward a fix."
One merchant posted a comment that read: "This was a wake up call for us that we have all are eggs in one basket. We will have two separate active card processing systems up and running from now on," Tim wrote.
"I run a farmers market here in Virginia Beach with over 50 small businesses FARMERS and food trucks who count on this payment method," Lori wrote. "Very stressful and upsetting to say the least. It only happens on the first and third Thursday evening. And tonight was that evening."
"You really messed up on this one and missed the mark with communicating the outage," Patrick wrote. "Never got any sort of message there were issues. Just figured there was something going on when we couldn't process payments and customers couldn't pay their invoices. We need to run a business too!"
"I hope you learn from this. Things do happen but communication is so important! You're geared to small businesses that can't afford not being able to take payments or access to their money," Heather wrote.
Nearly 2,000 comments have been posted to the Facebook post as of this morning including posts acknowledging systems are back up and running today.
"I know this was not an easy fix, but thank you for your hard work," Jeffrey wrote.
"Mine looks good this morning and my transfer good, hopefully everything goes ok today," Kim wrote.
This morning, merchants received an email that began with: "We are writing to apologize."
"Due to a systems outage within Square, sellers have been unable to log into their accounts or process payments since around noon Pacific Time on Thursday," the email read. "We know that you trust us with your business, and these types of situations add challenges to running your operations. For that, we are truly sorry.
"Our services are now starting to come back online. As a reminder, you can use offline mode to continue accepting payments during these types of outages."
Many customers, however, posted to Square's social media that the offline option also failed yesterday.
"Once the outage has been fully investigated, we plan to publish a full review of this issue and determine what steps we can take to prevent it from happening again," the email said. "In the meantime, we will continue to keep you up to date on the status of the outage and next steps via email, as well as through our social media channels and on issquareup.com.
"Thank you for bearing with us and for your continued partnership," read the email from The Square Team.