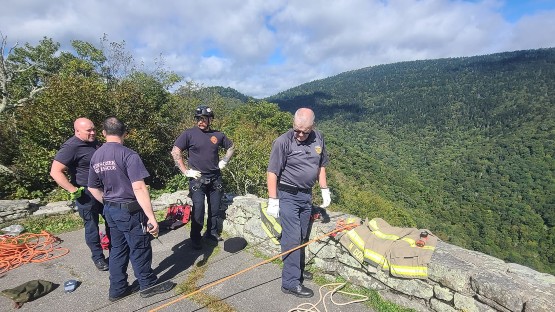 A South Carolina woman is dead after a 150-foot fall from a steep cliff on the Blue Ridge Parkway.
The woman, Nancy Sampson, 61, of Greer, S.C., fell down a cliff Saturday just after noon at Glassmine Falls Overlook, located on the scenic National Parkway, at milepost 361, in North Carolina.
National Park Service rangers who arrived on scene found Sampson dead due to injuries from her fall.
First responders from Reems Creek Fire Department rappelled more than 100 feet down to located the hiker and recover her body.
The Mount Mitchell State Park Rangers and Trauma Intervention Program of Western North Carolina assisted the NPS rangers.
According to the TIP, a volunteer from the organization helped a distraught family member during the tragic incident. The volunteer supported the family member and helped him get back down the mountain and connect with friends after the loss.
Glassmine Falls is 25 miles northeast of Asheville, N.C. It is a tall, skinny waterfall that can be difficult to see, according to the NPS.