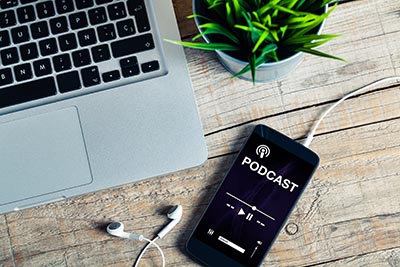 With hundreds of free agricultural podcasts exploring relevant topics, farmers have an array of options to keep their minds occupied during farm tasks or relaxation time.
"I find I'm often working by myself, so to pass the time, I enjoy listening to podcasts for information, updates and entertainment," said Kyle Sturgis, a fifth-generation aquaculture, hydroponics and row crop farmer in Northampton County.
He had noticed a need for more communication across the Young Farmers network, so he and first-generation cattleman Austin McNett of Augusta County started a Virginia Farm Bureau Young Farmers' podcast, Cultivating Conversations about Agriculture, in June 2021.
Since then, they have invited guests to discuss state-specific issues, including grain marketing, agricultural education, FFA, farmer resources and commodities. According to analytics, listeners tune in from across the U.S. and Canada.
The podcast founders recently passed the microphone to new hosts Ashley Kuhler and Morgan Slaven, young farmers who present their unique industry perspectives in a friendly, conversational style.
Kuhler was an FFA leader in the Shenandoah Valley and is now content and community manager for Farmer Focus, a chicken company.
Slaven grew up as the sixth generation on a cattle farm in Augusta County. She now owns her own farm and works full time for the Shenandoah Valley Electric Cooperative.
Their target audience includes anyone interested in rural or agricultural issues. The hosts plan to produce one or two podcasts per month.
"Whether enhancing technical skills for their business, or personal development for their quality of life, we want listeners to feel a sense of community when they tune in," Slaven said. "Hopefully they are hearing something that validates what they are thinking or feeling, which helps motivate them to continue doing what they do for our industry every day."
The most recent podcast episode featured discussion of farm stress and mental health with experts from Virginia Cooperative Extension and AgriSafe.
"We hope our audience ends up listening to a podcast with a feeling of belonging and that they are not alone in a challenge or celebration of something they are going through," Kuhler said. "We also hope to connect them to resources and acknowledge the issues that affect their lives."
You can listen to VFBF Young Farmers Cultivating Conversations about Agriculture podcast on Spotify and Apple Music, or the Buzzsprout website.