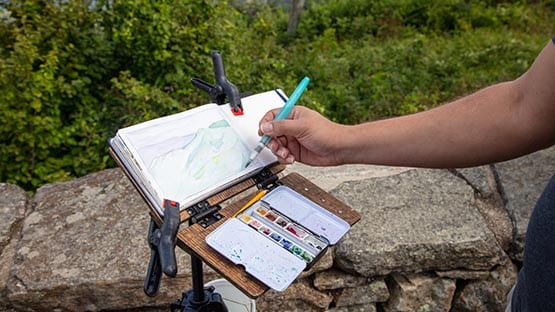 Shenandoah National Park will co-host Art in the Park: Scenes from Shenandoah in partnership with the Shenandoah National Park Trust on Sept. 22-24.
During the inaugural three-day event at Big Meadows, professional artists will interpret the park's landscape through traditional and contemporary art with workshops, performances and hands-on engagement for park visitors.
This event will feature current and former Artists-in-Residence, a nationally award-winning portrait artist, photographers and musical performances by "Mexilachian" band Lua Project and local fiddler Malia Furtado.
Workshops will be available for all ages in various mediums.
All programming will be interactive, free and open to the public, with the goal of engaging park visitors in joyful artistic expression reflecting the majesty of Shenandoah National Park.
"Shenandoah National Park is a place that inspires us to be present – with ourselves, the people around us, and the place itself," said Jessica Cocciolone, the Trust's Executive Director. "When we create art in a place like Shenandoah National Park, we look at and connect with the landscape in a new way. That's the deeper goal of this event: to help visitors connect with the park more deeply and give them tangible memories to take home."
The full slate of artists has been selected and will include:
Chris di Domizio, a nationally award-winning artist with 30 years of teaching experience, whose portrait of President Jimmy Carter now hangs in the Smithsonian National Portrait Gallery Permanent Collection in Washington D.C.
Nancy Herschberger, a fiber artist and former Shenandoah Artist-in-Residence, sponsored by the Oak Spring Garden Foundation
Ines Sun, a calligrapher and watercolor artist and Shenandoah's September Artist-in-Residence
Kevin Morgan, a volunteer filmmaker and photographer who is developing a documentary about Shenandoah National Park's past, present and future
local teaching artists
"Artists have always been important to national parks for more than 150 years, Their works have captured the public's imagination, inspiring them to preserve these lands for future generations," said Shenandoah National Park Superintendent Pat Kenney. "It will be great to see so many local artists continuing that tradition and sharing their creativity here in Shenandoah National Park."
The park will offer free entrance on Sept. 23, in honor of National Public Lands Day.
A schedule of the weekend's workshops and performances is online at www.snptrust.org/art-in-the-park.
Related story
National Public Lands Day to highlight volunteerism, hiking, art, CCC history