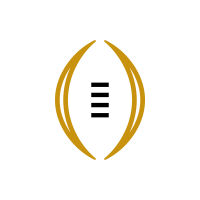 This Saturday four college football programs will compete for a chance to become one step closer to their ultimate dream of a national title, but like every year around this time I cannot help but think of what may have been if the College Football Playoff was eight teams rather than four.
Well folks it looks like I may not have to wonder about it much longer, as an eight team playoff seems to be gaining some traction among some of the bigger conferences in the country.
In a way I have always felt it should have been eight from the moment they announced a playoff was going to be created to crown the national champion in football. It can be set up pretty easily, the "power" five conferences winners get an automatic bid, the highest ranked conference winner from the group of five conferences gets in and then you have two at large bids.
Some people may complain under this format that someone like Pit who played Clemson for the conference championship could be rewarded for just one big win after a mediocre season but hey here is a solution, let's do away with the whole divisions inside a conference thing. With that you have the bonus of playing more teams in your conference and not the same ones over and over again.
Even if for whatever reason that doesn't work for you and you just want the eight "best" teams in, I am all for that but I would at least want to see a team like UCF or any non "power" 5 automatically added (no matter their final ranking) to give them at least a chance to prove themselves.
Play the games on the higher seeds home field if you want or just make the New Six Bowls be the quarterfinals and semifinals and space out the games well enough that the players still have a good amount of rest between games to help with concerns some people have about playing the athletes to much.
Look at some of the matchups we could have gotten throughout the last five season if we had an eight team playoff (based on my system).
2014:
#1 Alabama V #8 Boise State (Peach Bowl)
#2 Oregon V #7 Mississippi State (Fiesta Bowl)
#3 Florida State V #6 TCU (Orange Bowl)
#4 Ohio State V #5 Baylor (Cotton)
2015:
#1 Clemson V #8 Houston (Peach Bowl)
#2 Alabama V #7 Ohio State (Sugar Bowl)
#3 Michigan State V #6 Stanford (Fiesta Bowl)
#4 Oklahoma V #5 Iowa (Rose Bowl)
2016:
#1 Alabama V #8 Western Michigan (Sugar Bowl)
#2 Clemson V #7 Oklahoma (Orange Bowl)
#3 Ohio State V #6 Michigan (Cotton Bowl)
#4 Washington V #5 Penn State (Rose Bowl)
2017:
#1 Clemson V #8 UCF (Peach Bowl)
#2 Georgia V #7 USC (Orange Bowl)
#3 Oklahoma V #6 Wisconsin (Cotton Bowl)
#4 Alabama V #5 Ohio State (Fiesta Bowl)
2018:
#1 Alabama V #8 Washington (Peach Bowl)
#2 Clemson V #7 UCF (Sugar Bowl)
#3 Notre Dame V #6 Ohio State (Fiesta Bowl)
#4 Oklahoma V #5 Georgia (Rose Bowl)
Think back to some of these years if you can. In 2014 TCU was playing as good as anyone they could have made a run to the title that season but instead was left out of the playoff. In 2015 Ohio State would have been a 7 seed and they arguably were one of the three best teams in the country and would have played Alabama in first round a rematch of the previous year's sugar Bowl where the Buckeyes beat Alabama.
2016 we could have had a rematch between Ohio State and Michigan after their first game ended with a phantom first down be awarded to Ohio State that ultimately help them win the game. Imange the build to that rematch and that would just be a first round matchup!
2017 We would have another Alabama V Ohio State matchup, no need to worry about who was better because they would have played it on the field. Also we would get a better understanding on how good UCF really is because they would be matched up with Clemson both in 2017 and 2018 under this format. You would also have Georgia in the 2018 playoff and who wouldn't want to see Alabama Georgia round three if it came to it?
Eight is the perfect number no more no less. Do not worry folks it's not going to ruin the importance of the regular season in fact it is my belief it will make it more important. With an eight team playoff will get more intriguing matchups, more teams will have a chance and it will finally feel like a true playoff.
Like I said eight is perfect it is what it should have been from the start, but if we ever talk about expanded it again to 16 do not worry anti expansion people I will be the first to join you to bash that idea.
Column by Seth Megginson