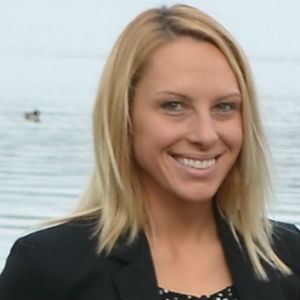 Bridgewater College director of athletics Curt Kendall has announced the hiring of Sarah Gaffney as the College's new head coach for the women's basketball program.

Gaffney comes to Bridgewater after three seasons as the head coach at Keuka College in Keuka Park, N.Y. This past season the Wolves finished the season with a 14-10 overall record. Keuka was 11-7 in conference play, good for a third-place finish in the North Eastern Athletic Conference North Division.
"We are excited to have Sarah Gaffney as our head women's basketball coach," said Kendall. "Her positive energy, disciplined approach and high expectations are a great fit for the talented returners she will inherit.  Her ability to connect with her players and recruits should pay dividends moving forward. As a recruiter, she has been a coach at all collegiate levels and has established many recruiting contacts throughout the east coast. We feel Sarah can continue the very successful legacy that both Jean Willi and her mentor, Laura Mapp, have established at Bridgewater College."
Kendall chaired a selection committee that included Bridgewater faculty and staff and two former Eagles players.
"I'm really excited about the opportunity to coach the women's basketball team at Bridgewater College. When I was there for my interview I thought the campus was just gorgeous and the Shenandoah Valley is a beautiful place," Gaffney said. "I've heard so much about Bridgewater's strong academic reputation and it's a place where I believe you can win. Coach (Jean) Willi has certainly built a winning tradition and we will look to continue that tradition."
Fans and players can expect an up-tempo style of play. "It may not happen right away, but eventually we want to play at a quick pace. We will have a really positive culture in the program. If you come to a practice you will see a lot of high-fives and a lot of energy. We want to play fast, but we also want to still be taking quality shots and making good decisions," Gaffney added.
The new coach will also expect the players to perform in the classroom. "While at Keuka we had a goal of a 3.0 team GPA and I will bring that goal to Bridgewater. I am very active in our study halls and in monitoring the players' academic progress. I want the players to be successful both on the court and in the classroom."
Gaffney has worked at every college level during her coaching career.
Prior to taking the head coaching position at Division III Keuka, Gaffney worked as an assistant coach for three seasons at Division II Eckerd College where she was involved in all aspects of the program.
Gaffney also spent a year at the Division I level as the director of basketball operations at Elon University. The Phoenix posted a 20-13 record, at the time a program record for wins in a season. Gaffney was also a camp and clinic coordinator during her year at Elon.
Gaffney began her coaching career in the junior college ranks as an assistant at Guilford Technical Community College during the 2010-11 season. The Titans finished with a 29-3 record and won the Region X championship.
During her playing career, Gaffney was a standout at Mohawk Valley Community College where she was named a 2006 National Junior College Athletics Association (NJCAA) first-team All-American and a 2006 NJCAA Academic All-American.
After receiving her associates of science degree in general studies, Gaffney transferred to the University of North Carolina-Greensboro where she graduated with a Bachelor of Science degree in physical education. While at UNC-G, she served as a student manager for the women's basketball team and assisted with daily operations of the program, including assisting with scouting reports and film analysis.
Gaffney succeeds Jean Willi who retired at the conclusion of the 2016-17 season. Gaffney becomes just the third head coach for the program in the past 56 years. Bridgewater Hall of Fame coach Laura Mapp coached the squad from 1961 through 1996 followed by Coach Willi for the past 21 seasons.