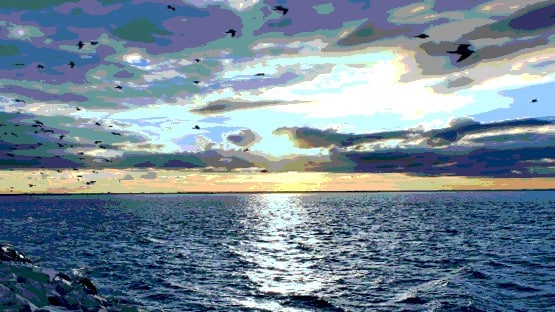 Climate change is claiming farmland at "an alarmingly high rate" in one of the Mid-Atlantic's most productive agricultural regions, inflicting tens of millions of dollars in economic damage, a team of scientists says in a new study.
Their research spotlights a pernicious side effect of sea level rise: the salt left behind from water washed onto land after storms or unusually high tides. The resulting "salt patches," supercharged by evaporation, can poison large swaths of cropland, reducing yields and farm profits.
From 2011 to 2017, the amount of Delmarva Peninsula farmland that converted into salt patches nearly doubled to more than 2,200 acres, the study estimates. That translates into as much as $107 million in annual crop losses in the region, the researchers say.
"Saltwater intrusion is far more extensive than I think we originally anticipated," said Kate Tully, an agroecologist at the University of Maryland and one of the study's authors. "There is an important need for us to come up with a suite of solutions for farmers and landowners on the Eastern Shore."
The study, published by the journal Nature Sustainability in July, shows that farms located in low-lying areas along tidal bays and creeks are most at risk. Rather than overtaking entire fields, the salt appears to be slowly eating away at the edges, another team member said.
"It's not like you lost half a field," said Jarrod Miller, a soil expert at the University of Delaware. "It could have been just a foot along the edge of these fields. But when you add it up, it's a lot of acreage across the region."
In affected areas, the patches show up as swaths of bare white sand and salt. In cases where salt has just begun to invade, there still may be intermittent sprigs of vegetation.
The research group, which also includes members from George Washington University, has been studying threatened farmland on the Delmarva Peninsula for more than five years. Tully, Miller and their colleagues have been working to map the extent of saltwater intrusion, predict its path and test the viability of more salt-tolerant crops, such as sorghum and switchgrass.
The peninsula stretches more than 170 miles, separating the Chesapeake Bay and Atlantic Ocean. It encompasses all of Delaware, as well as parts of Maryland and Virginia. Corn and soybeans dominate the landscape during the growing season. The grains are almost exclusively grown to feed not people, but chickens, which are raised to supply Perdue, Tyson and other meat companies in the region.
Some of the land has been under intense cultivation since the 1600s, when European settlers began establishing farms.
In their latest study, the team used aerial photographs, satellite imaging and soil-sampling to estimate the spread of salt patches. Employing machine learning, they also developed software that can identify, with 85% accuracy, different types of land cover from the satellite-derived data.
Across Delmarva, the salty land's expansion came quickly. In Maryland, the patches each grew by about 80% over six years, surpassing 1,000 acres by 2017. There was far less impacted farmland on the Eastern Shore of Virginia, but the 300 acres recorded that year represented a 243% increase since 2011.
The influx of saltwater can reach surprisingly far inland. The highest jump in saltwater intrusion was in Maryland's Caroline County, Delmarva's only land-locked county. Salt patches there expanded by 450%.
The salt patches remain a minor part of the landscape, accounting for well below 1% of the total farmland in any given county. But salt is only part of the story across the peninsula. During the study period, 20,000 acres of farmland converted to marsh, an area about half the size of the District of Columbia.
The researchers were stunned by the pace of change.
"This is a rapidly evolving landscape," said Pinki Mondal of the University of Delaware, the paper's lead author. "We can't wait and watch what is going on."
Mondal has developed a mobile app to display Delmarva's change in land cover from 2011 to 2017. Salt patches are delineated in purple and farmland in orange.
Randy George, a retired neurosurgeon, has owned about 460 acres of land in rural Somerset County, MD, along Gales Creek, since the mid-1980s. He lives in a farmhouse that dates to the 1700s and leases about 200 acres to a grain farmer.
Mondal's mapping shows only a few flecks of purple invading the orange on George's acreage as of 2011. By 2017, purple streaked across his land in broad brushstrokes.
"It's a losing battle," George said. "It's not that we're being flooded all the time. We're being flooded occasionally, and that's enough."
Mondal said it's probable that the impact of saltwater intrusion is wider than what is visible. Soil samples that researchers collected at 36 farm sites in 2019 indicated high sodium levels up to several hundred feet away from some of the visible salt patches. Crops in these "at-risk" zones are almost certainly under stress, according to the study.
To gain a sense of the scope of these invisible intrusions, researchers calculated how much farmland on Delmarva lies within 200 meters (656 feet) of the patches that can be seen by the eye. The answer: more than 400,000 acres.
Farmers impacted by saltwater intrusion have a few options to delay its onset, Miller said. They can install tide gates on their ditches, which can be opened to allow water to drain off the land and closed to prevent tidewater from infiltrating. Farmers can also spread calcium sulfate (gypsum) onto their fields. That loosens the soil's grip on sodium, enabling rain to wash it away, the University of Delaware researcher said.
The scientists say they studied Delmarva because it is experiencing sea level rise effects earlier than many other places. Water there is rising faster than the global average along that portion of the North Atlantic. Meanwhile, much of the region's land is sinking — as it has been by a millimeter or two per year since the end of the Ice Age, likely accelerated by modern-day draining of aquifers.
Jeremy Cox is a Bay Journal staff writer based in Maryland. You can reach him at [email protected].