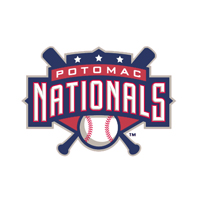 The Potomac Nationals are honored to announce the induction of former Major League Baseball veteran left-handed pitcher and outfielder, Rick Ankiel into the club's Hall of Fame.
Ankiel, 35, becomes the 10th member of the Potomac Baseball Hall of Fame at Pfitzner Stadium and will be enshrined in a pre-game ceremony on Saturday, August 23rd before the P-Nats take on the Frederick Keys (Baltimore Orioles) at 6:35pm.
Ankiel will be on-hand to sign autographs for the P-Nats faithful and post for pictures on the stadium concourse before taking to the diamond to be officially inducted as the newest Potomac Baseball franchise Hall of Fame honoree.
The first 1,000 P-Nats fans through the gates at The Pfitz will also get to take home a Prince William Cannons Rick Ankiel throwback Jersey t-shirt that serves as a replica of his Jersey top from the 1998 Carolina League campaign.
A Potomac Baseball Hall of Fame plaque bearing Ankiel's likeness and a description of his stellar professional career will don the stadium cafe wall inside the Pfitzner Stadium gates for all who attend Potomac Nationals games to see.
"Rick Ankiel will be joining an elite class of hallmark players who played in Woodbridge on the 23rd of August as we induct him into our Potomac Baseball Hall of Fame. It will be a special treat for our fans to have Rick at the ballpark on his big night. This exciting evening at The Pfitz perfectly complements our season-long celebration of 30 years of professional baseball at Pfitzner Stadium," says Potomac Nationals Vice President and General Manager, Josh Olerud.
The former Prince William Cannons (St. Louis Cardinals) fireballer pitched in Woodbridge during the 1998 season before making his Major League debut with the Cards on August 23rd, 1999. In '98 for the Cannons, Ankiel was the patriarch of the pitching staff going (9-6) with a stellar 2.79 earned run average. Ankiel struck out 181 batters and walked just 38 men in 126.0 innings as the ace of the Prince William staff.
The eventual two-way standout originally signed with St. Louis out of the 2nd round of the 1997 MLB Draft, and would go on to finish second in the National League Rookie of the Year Award voting in 2000 behind only Atlanta Braves SS Rafael Furcal.
The slender slugger owned a lifetime (13-10) record on the mound and pitched to a 3.90 ERA in "The Show," and later in his Major League career, after adapting his game to become an outfielder, Ankiel logged a .240 batting average while collecting 76 homers, 251 runs batted in, and a .724 OPS.
Ankiel played for St. Louis ('99 to '01, '04, '07 to '09), Kansas City ('10), Atlanta ('10), Washington ('11 to '12), Houston ('13), and New York-NL ('13).
Ankiel became the first player since the legendary George Herman "Babe" Ruth to win at least 10 games as a hurler and also belt 50 home runs in his Big League career. In addition, the southpaw swinger and pitcher also was the second player other than Ruth to start a postseason game as a pitcher and homer in a playoff contest as a position player.
Ankiel joins the exclusively elite Potomac Baseball Hall of Fame at Pfitzner Stadium which includes players: C Brad Ausmus, OF Barry Bonds, IF/OF Bobby Bonilla, OF Magglio Ordonez, LHP Andy Pettitte, C Jorge Posada, 1B/OF Albert Pujols, and OF Bernie Williams; in addition to Potomac franchise owner and CEO, Art Silber.