george mason forced overtime at Rhode Island, but the Rams outscored the Patriots just enough in overtime 15-13 to capture a 71-69 win on Saturday afternoon in Atlantic 10 play. Mason led by as many as 12 in the contest.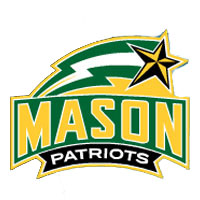 The Patriots (7-11, 0-4 A-10) trailed by four coming out of the final media timeout of regulation and outscored the Rams (10-9, 1-3 A-10) 12-8 in the final minutes as Jalen Jenkins hit two crucial free throws with 11.2 seconds left to tie the game at 56. Jenkins recorded his second block of the half as E.C. Matthews tried to convert a layup as time expired to force overtime.
Xavier Munford opened the overtime period scoring the first 10 points for the Rams as the Patriots trailed 66-63 with 44 seconds remaining. After exchanging a trio of free throws, Bryon Allen would tie the game at the free throw line, hitting three after being fouled beyond the arc with two seconds on the clock. Gilvydas Biruta would draw a foul in the final second and hit both free throws to give URI the 71-69 victory.
Three Patriots finished in double-figure scoring numbers led by Sherrod Wright with 12 points. Wright was followed by Patrick Holloway with 11 and Allen with 10 points. Mason won the rebounding battle, 35-31, paced by Jenkins with nine. The Patriots shot a 47.1 percent clip from the field and 72 percent from the free throw line (18-25). URI was 38.2 percent from the floor and 76.7 percent at the charity stripe (23-30). Munford finished the game with 28 points, while Biruta added 17 points and 10 rebounds to the effort.
Mason led at the halftime break, 29-25, and held its largest lead of 12 points at the 9:41 mark following a layup from Anali Okoloji. URI came out of the break and immediately began chipping away at its deficit and used an early 9-2 run to take the lead 39-37 with 10:36 to play. URI would hold the lead the remainder of the contest.
Mason closes out this two-game road swing at Fordham on Wednesday. Game time is slated for 7 p.m. in Rose Hill Gym.