U.S./World
How much progress have we made toward racial equality, integration?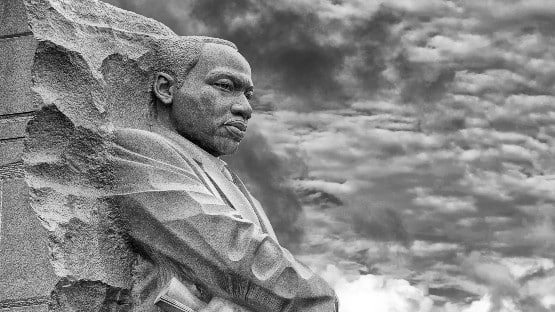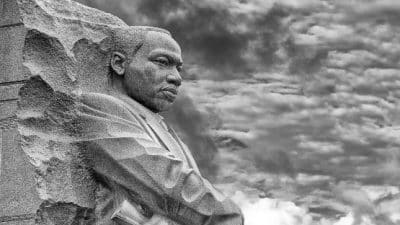 Today is Rev. Dr. Martin Luther King Jr. Day and only 40 percent of Americans think the recent spotlight on racial equality has improved the lives of Black Americans.
WalletHub released its report 2023's States with the Most Racial Progress to measure America's progress in harmonizing racial groups.
The personal finance website measured the gaps between Blacks and whites across 21 key indicators of equality and integration in each of the 50 states and Washington, D.C. Data includes median annual household income, standardized-test scores and voter turnout.
The report's intention is to examine the difference between Black Americans and white Americans in light of the high-profile police brutality incidents that sparked the Black Lives Matter movement. WalletHub released the report before today's holiday honoring King, "who played a prominent role in the Civil Rights Movement to end segregation and discrimination against black people."
According to WalletHub's report, the most racially integrated states are Hawaii, Alaska, New Mexico, Delaware and Arizona. Maryland is no. 9 on the list. Virginia is no. 17.
States with the most racial progress are Wyoming, Texas, Georgia, Mississippi and Idaho. Maryland is again no. 9 on this list. Virginia is no. 21.
Report highlights include the lowest gap of homeownership rates between white and Black Americans being in D.C. at 12.34 percent. Connecticut has made the most progress with closing the gap since 1970 with a change of 9.56 percent.
Hawaii has the lowest gap in median annual household incomes between the two races at 14.48 percent. Wyoming has made the most progress since 1979 with a change of 49.59 percent.
The lowest gap in unemployment rates between the races is in South Dakota with 0.34 percent and North Dakota has made the most progress since 1970 with a change of 10.45 percent.
The lowest poverty rates between the races is 1.15 percent in Hawaii. The most progress has been made in Mississippi with a change of 26.47 percent.
Experts provided opinions on the major causes for the racial wealth gap between Black and white households in the U.S.
"Historical racial prejudice and discrimination in our nation's institutions are the root cause. Institutional racism in education, employment, income and housing are a few examples of factors that have caused a racial wealth gap," Dr. Jennifer E. Grace, assistant professor and Administration and Supervision Program Director at the University of Houston-Clear Lake, said.
Dr. Maria Krysan, a professor at the University of Illinois Chicago, said one of the major causes is racist housing policies that shut Black households out of one of the primary engines of wealth accumulation in the U.S.: home ownership.
"Policies and practices for generations (redlining, blockbusting, land sale contracts, predatory lending, racial covenants, the list is extensive) worked to cement racial residential segregation into many of our nation's cities and it has become so entrenched now that it is a self-perpetuating system…To take a simple example, the racial wealth gap was caused in part by the segregative system whereby Black households were shut out of homeownership by a racist housing system. Parents, then, could not pass along wealth to their children. Those children, in turn, had fewer options to purchase homes outside of disinvested Black neighborhoods simply because they could not afford them. And so, the cycle continues. And that system has disadvantaged Black households and predominantly Black neighborhoods, making it difficult for Black households to realize the same kinds of wealth accumulation through homeownership that their white counterparts have enjoyed," Krysan said.
Grace said that state and local authorities can help reduce the racial gaps in wealth, employment and education by taking a hard and honest look at policies and practices that exclude and marginalize Black community members.
"State and local authorities will also need to have an honest conversation about how they invest in Black communities. Businesses, home ownership, pay equity and school funding — all of these are areas that will require financial investments and incentives to reduce the racial wealth gap," Grace said.
Dr. Tyeshia Lashae Redden is an assistant professor at Gettysburg College.
"In the United States, education consistently has the most casual impact on social mobility. Education and employment are inextricably linked and state and local authorities should re-think their funding arrangements. Public school systems are funded by property taxes…a system that we know definitively perpetuates poverty by underfunding predominantly Black (and Brown) schools, which in turn has direct impacts on the educational outcomes. Because the average American family's wealth is mostly property-based, state and local authorities should support a variety of measures to increase homeownership among low-income and working-class African American households. Community land trusts, down-payment assistance, and low-interest loans are all ways to support this goal. Some cities have even created reparations programs that overlap with this aim: Evanston, Illinois passed a 2021 measure to distribute $25,000 to each eligible African American household to use for home repairs or property down payments," Redden said.
Dr. Sirry Alang, associate professor at the University of Pittsburgh, said state and local authorities should work to reduce racial segregation in housing by investing in mixed-income, safe, green and affordable housing.
"The United States Department of Housing and Urban Development needs to address, eliminate and prosecute redlining and unjust mortgage and home insurance policies. Eliminate economic and social isolation by investing in public transportation, public services, and small business in already racially segregated communities. This helps with upward social/ economic mobility," Alang said.
Krysan agrees, and said that every level of government should strive to reduce residential segregation because it is a source of racial inequality in the U.S.
"Breaking the cycle of segregation is a complex proposition because so many forces create it. One could be overwhelmed by this complexity, but another way to look at it is that this complexity means there is a place for everyone to contribute to solutions. Officials can examine the local conditions to understand the factors in their own communities and states that impede fair housing and perpetuate segregation – from discriminatory practices (overt and covert) throughout the industry (real estate agents, insurance, assessors, mortgage lenders, etc.) to lack of affordable housing to zoning practices to perceptions and blind spots among those searching for housing," Krysan said.