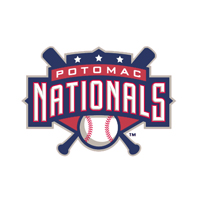 The Potomac Nationals (61-49, 23-18) swept the Carolina Mudcats (50-60, 21-22) in a doubleheader on Sunday afternoon by scores of 5-2 and 9-4. Nationals' LHP Hector Silvestre (W, 1-0) was one out away from completing a no-hitter in Game One before allowing a triple to 3B Yandy Diaz in the seventh.
Silvestre allowed a walk over 6.2 innings before giving up the hit that broke up the no-no in. Potomac also committed a pair of errors in the contest, but put up enough runs to give Silvestre a chance to close out the game. Carolina scored two runs in the seventh on a home run by C Jeremy Lucas to cut the lead to three, but RHP Gilberto Mendez (Sv, 8) shut the door for Potomac with the final out.
The Nationals' runs came in the second half of the contest. CF Isaac Ballou started the scoring with a solo home run in the fourth off Mudcats' RHP Adam Plutko (L, 3-6). DH Khayyan Norfork singled in a run in the fifth, and back-to-back ground rule doubles by Ballou and 2B Tony Renda in the sixth made it a 3-0 game.
The P-Nats added some insurance in the seventh with RBI-hits from RF Estarlin Martinez and Ballou. Ballou went 3-for-4 with a pair of runs and RBIs in the game.
Game Two saw the Nationals explode for nine runs in the first three innings in their 9-4 victory. RHP Dakota Bacus (W, 4-6) struck out four over his five innings in the win for Potomac. Mudcats' RHP D.J. Brown (L, 2-6) allowed seven runs over 1.2 innings in the loss.
Apart from a first inning DH Mike McQuillan two-run double, every other run came on singles and ground outs for Potomac. Ballou collected two more hits and a pair of RBIs, while 1B Shawn Pleffner scored two runs and knocked in three. LF Randolph Oduber and SS Stephen Perez grabbed RBIs of their own in the second game as well.
The Mudcats plated three in the third inning and used another Lucas home run to get to their four-spot.
The Potomac Nationals Baseball Network, which is accessible at www.potomacnationals.com, will broadcast the first game of a three game series against Winston-Salem on Tuesday, August 5th after enjoying an off day on Monday. Broadcast coverage will begin with the P-Nats Leadoff Show at 6:50pm in preparation for the 7:05pm start. Pitchers for both teams are to be announced. It will be another Two-for-Tuesday at Pfitzner Stadium with two tickets, hot dogs and sodas for the price of one.