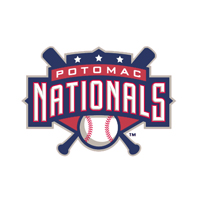 The Potomac Nationals (10-7, 6-4) edged the Lynchburg Hillcats (9-8, 4-6) in Game Three of their four-game series by the final score of 6-5 on Easter Sunday at Lynchburg City Stadium on Calvin Falwell Field to capture sole possession of first place in the Carolina League's Northern Division.
The P-Nats are the first club in the Northern Division to reach 10 victories in the 2014 campaign.
Potomac RHP Ronald Pena (1-0) earned his first win of the 2014 season after motoring through 5.0 innings and allowing two runs, but only one earned run, on five base hits while walking just one batter and striking out a pair.
The Nationals are now (4-0) in games in which Pena is the starting pitcher.
Number one overall prospect in the Atlanta Braves Minor League system, RHP Lucas Sims (1-2) was the losing pitcher of record after surrendering five runs, four of which were earned, on four hits, including a home run ball, while walking two.
After neither team scored following the first three innings of the contest, the Nationals put together a four-run 4th frame as 1B Kevin Keyes blasted a three-run four-bagger over the stacked signage in left field scoring 2B Khayyan Norfork, who was hit by a pitch, and DH Oscar Tejeda, who drew a walk. Then, after RF Brandon Miller singled up the middle and SS Stephen Perez worked a base-on-balls, both runners advanced into scoring position following a wild pitch by Sims. 3B Adrian Sanchezlofted an RBI sacrifice fly to center field bringing Miller to home plate.
The P-Nats tacked on an additional run to take a 5-0 lead in the 5th via a leadoff single lined into center field by LF Justin Miller that eventually scored on a ball ripped by Tejeda through Lynchburg 3B Kevin Ahrens which was ruled a fielding error.
Lynchburg fought back with two runs in the 5th and two runs in the 6th.
Off Pena in the 5th inning, 2B Jose Peraza laced an RBI single into center field that brought home RF Will Skinner, who had swept a leadoff infield single to the deep hole at shortstop. During an infield single by CF Kyle Wren, a missed catch by Pena during a rundown between third base and home plate, allowed SS Daniel Castro to score.
In the 6th, Castro ripped a run-scoring single into right field and C Joe Odom chopped an RBI single up the middle on offerings from RHP Travis Henke cut the Nationals' lead to 5-4.
Henke allowed two earned runs total on four base hits but did not walk any hitters in 1.0 inning.
Nationals RHP Derek Self was terrific in 2.0 scoreless stanzas in relief in the 7th and the 8th and faced one batter over the minimum.
The P-Nats added one run in the 7th off RHP Colby Holmes on a broken bat RBI single blooped into shallow left field by CF Randolph Oduber to give the visiting club a 6-4 lead.
Despite allowing one earned run in the 9th frame, Potomac RHP Robert Benincasa (SV 5) garnered his fifth save in as many save chances this season. Benincasa got Peraza on a 5-3 groundout after just one pitch before Wren bunted his way aboard on a deadened baseball up the third base line that went off the palm of Sanchez. Wren stole second base and LF Josh Elander then struck out looking on a 3-2 breaking ball before a passed ball charged to C Pedro Severino put Wren on third base. Ahrens drove Wren to the dish on an RBI single sent into the right center field gap to yield a 6-5 score. DH Levi Hyams then popped up in back of home plate and Severino made the squeeze up against the screen to finish off the Nationals' victory.
Monday night's Game Four finale with first pitch set for 6:05pm will send Nationals LHP Brett Mooneyham (1-1, 2.38) to the mound to clash with Lynchburg RHP Greg Ross (1-0, 2.08).
The Potomac Nationals Baseball Network, which is accessible at www.potomacnationals.com, will broadcast the series finale on Monday evening beginning with the P-Nats Leadoff Show at 5:50pm before the live play-by-play at 6:05pm.