Sports
Pitt, Virginia's next opponent, should have your attention if you're a UVA fan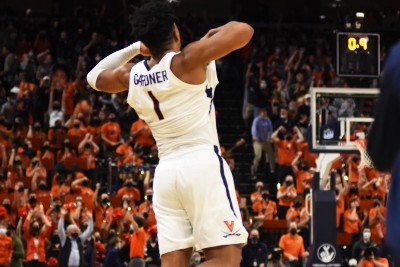 Pitt, Virginia's next opponent, on Tuesday night at the Petersen Events Center, lost three in a row after opening the season with an 80-58 win over Tennessee Martin, but since, the Panthers have been pretty good.
Their only loss since came at Vanderbilt, by one point, 75-74, on Dec. 7. Pitt has won nine of its last 10, three of those in ACC play, and two of those coming on the road – at NC State and at Syracuse.
The most recent ACC win, over preseason #1 North Carolina, 76-74 on Friday, should get your attention.
The Panthers won despite a big game from Tar Heels big man Armando Bacot (22 points, 13 rebounds), by getting an even bigger game from 6'4" senior Jamarius Burton, who had 31 points on 14-of-17 shooting.
Carolina led that one by six at halftime, and by nine with 11:40 to go, so, gritty comeback there for Pitt.
This is a good Pitt team, easily the best that Jeff Capel has had in his five years there – Capel is 61-73 at Pitt, and has not had a winning season since getting the job in 2019.
The rotation
Undersized four Blake Hinson (17.1 ppg, 7.3 rebounds per game, 48.2% FG, 34.6% 3FG) is the focus of the offense.
I say he's undersized, but he's 6'7", 235, so, he may give up a few inches to other fours, but he's got the size to bang, and he can stretch the floor with his perimeter shooting as well.
Burton (15.8 ppg, 5.1 rebounds/g, 57.4% FG) has an old man's game, getting 38.8 percent of his shots at the rim and 43.4 percent of his shots in the mid-range, where he shoots 55.4 percent.
Nelly Cummings, the 6'0" point guard, is fifth in the ACC in assists (4.9 per game), and an adept scorer (11.1 ppg) and good shooter (41.1% from the field, 35.1% from three).
The two guard is 6'3" Greg Elliott (10.8 ppg, 44.6% FG, 39.5% 3FG).
The center, 6'11" sophomore Federiko Federiko – that's not a misprint; his name is actually Federiko Federiko – is the dirty work guy (5.9 ppg, 5.1 rebounds/g, 1.7 blocks/g, 64.3% FG).
Capel has shortened his bench of late – usually going with just two guys off the bench, 6'11" freshman Jorge Diaz Graham (4.1 ppg, 3.2 rebounds/g in 13.3 minutes/g) and 6'4" senior Nike Sibande (5.8 ppg in 19.9 minutes/g).
Analytics
Capel is a Duke guy, so he prefers a faster pace – and Pitt averages 68.8 possessions per game, 156th among the 363 teams in D1.
Last year's games with Virginia averaged 55.5 possessions per game, which is even slower than Tony Bennett's preferred glacial pace – Virginia ranks 361st this season in tempo, averaging 61.8 possessions per game.
Per KenPom, Pitt ranks in the top 100 nationally in both offense (1.092 points per possession, 47th nationally) and defense (0.978 points per possession, 91st nationally).
Virginia is in the top 20 in both of those metrics – ranking 16th in offense (1.132 PPP) and 19th in defense (0.907 PPP).
Projections
Evan Miya: Virginia 68-63, 69.4% win probability
ESPN BPI: Virginia +3.8, 65.5% win probability
KenPom: Virginia 67-64, 63% win probability
Bart Torvik: Virginia 65-63, 59% win probability
Video