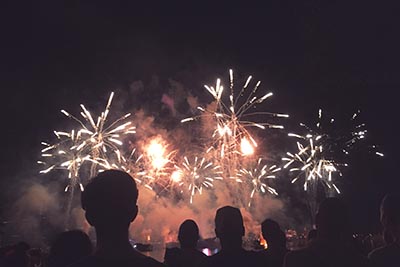 Waynesboro's Summer Extravaganza will not be held again this year, but the city parks and recreation department and downtown merchants are still working to provide a celebration for residents.
Summer Extravaganza was a two-day event held in Waynesboro through 2010 – offered the weekend after July Fourth. Extravaganza was held after the Fourth because the city didn't want the festival to compete with the annual America's Birthday Celebration event at Gypsy Hill Park in Staunton which for many years featured the Statler Brothers and drew thousands of people for their free concert and fireworks.
In 2011, citing budget concerns, Waynesboro scaled back Summer Extravaganza to a one-day event that concluded with fireworks.
In 2019, Summer Extravaganza returned as a two-day event before COVID cancelled festivities in 2020. In 2021, the event was still canceled but the city did move forward with fireworks at a new location – Sunset Park.
This year, the city is returning to Sunset Park for fireworks scheduled to begin at 9:30 p.m. There has been no word when or if the city plans to bring Summer Extravaganza back to Ridgeview Park in future years.
Sunset Park will eventually transform a former city landfill into a public park with hiking and mountain biking trails as well as public space for festivals. Waynesboro City Council approved the project in April.
Sunset Park will be closed to the public during the fireworks. Residents are encouraged to find a spot to view the fireworks within the city.
In addition to Sunset Spectacular fireworks, there will also be a 5K/10K and a downtown event on Saturday.
5K/10K Sunrise Spectacular
The Sunrise Spectacular 5K/10K will take place on Saturday, July 9, at 8 a.m. at Ridgeview Park near the Serenity Garden in Waynesboro.
Registration is open until July 8 at 6 p.m. Advance registration is required. There will be no in-person registration Saturday morning.
Participants will receive a race day t-shirt and a post-race party with food and drink.
There will be fully stocked aid stations and an awards ceremony.
Part of the proceeds from the race will support Relay for Life.
For more information or to register, visit runthevalley.com
Downtown Spectacular
Downtown merchants came together this year to offer a day of fun, food, contests and shopping hosted by Destination Downtown Waynesboro on Saturday, July 9, from 2-7 p.m.
Lumos Plaza will host the event which will include a hot dog eating contest (limited to 10 contestants), a hula hoop contest for kids 12 and under, and a red, white and blue outfit contest (no registration is required).
Craft and food vendors will be set up throughout the day.
For complete details, go to visitwaynesboro.com