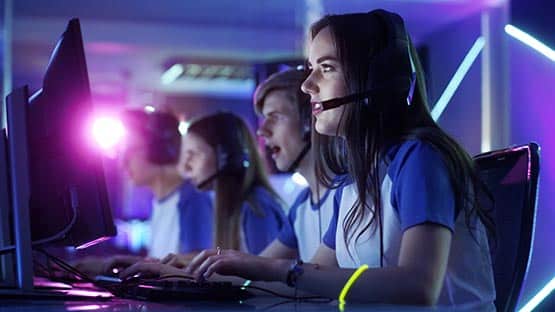 Mountain Gateway Community College is forming an eSports team and plans to hire a coach, Ryan Borden, for the fall 2023 season, in part due to a $5,000 donation from Lumos.
eSports – short for electronic sports – is a form of competition using video games, such as Call of Duty, Halo, Mario Kart, Rocket League, Madden 21, FIFA 21, Rainbow Six Siege and many more.
Lumos serves most of the Alleghany Highlands with fiber optic coverage in Covington, Clifton Forge, Iron Gate and approximately 95 percent of Alleghany County.
"We are grateful to Lumos for sharing in our plans to develop an eSports program for the college beginning in Fall 2023," said Dr. John Rainone, MGCC President. "The concept and the strength of this plan is solely dependent upon the shared vision that we must bridge the digital divide, growing economic development and digital literacy.
"MGCC previously announced its membership in the National Junior College Athletic Association, attracting talented coaches and helping us prepare to bring programs to fruition. Community is important to us, as I know it is to Lumos. Both MGCC and Lumos have tremendously impacted families and individuals in our region."
Fiber technology is crucial for gamers – making the partnership with Lumos a no-brainer.
"Upload and download speeds can be the difference in winning or losing a match," said Cat Mosley, Director of Market Development at Lumos. "We are proud to support MGCC and commend the college for being one of the first to formally create an eSports program, which is rapidly growing in popularity nationwide."
Borden helped start the eSports program at Bath County High School and comes to MGCC with four years of eSports coaching experience, leading high school teams in titles such as Rocket League, Super Smash Bros, Ultimate and League of Legends. He says his goals are to spread the word about eSports to the community, get MGCC competing and playing in matches, and keep sportsmanship/professionalism as a focus.