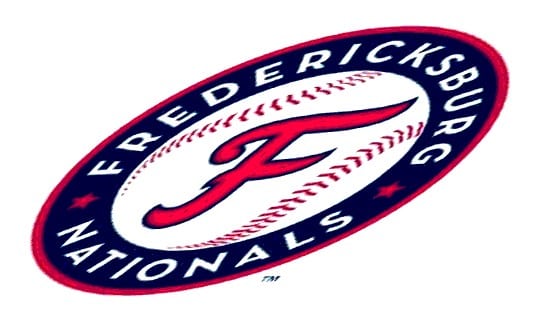 In a game that featured 27 runs and 34 hits between Lynchburg and Fredericksburg, it was the Hillcats who weathered the storm and won, 14-13, on Sunday.
Elijah Nunez singled and stole second base as the leadoff man in the top of the first for the Nats, the Low-A affiliate of the Washington Nationals, and then #2 overall pick Dylan Crews ripped his third homer of the year, a no-doubter to left center, to make it 2-0 after just a half inning of play.
Yet that lead did not stand for long. Leadoff man Alex Mooney singled, and Angel Genao followed with an RBI double. After Riley Cornelio picked up a pair of outs, Jose Devers walked, then Wuilfredo Antunez singled to plate Mooney and push Devers to third. He then scored on a defensive miscue to give Lynchburg a 3-2 edge.
They extended that lead to 5-2 in the second inning, on an RBI double from Genao and a single from Robert Lopez.
Crews did his part to cut into that lead in the third, as he began the inning with another home run to make it a 5-3 deficit. Andrew Pinckney followed with a single, and he stole second base. Later in the frame, Marcus Brown singled to right field to bring Pinckney around to score, putting the Nats down by just a run.
In the top of the fourth, Tuda Thomas doubled with one away, and Elijah Nunez followed with a walk. The two of them stole third and second base respectively, and Crews then smacked his third hit of the day to plate both runners and put the Freddies back in front 6-5.
After a walk to Yohandy Morales, Pinckney reached on an E4, and Leandro Emiliani walked to load the bases. Brown then drove YoYo and Pinckney home to put the Nats in front 8-5.
This game continued to go back and forth, as Lynchburg, the Low-A affiliate of the Cleveland Guardians, put runners on the corners with one out in their half of the fourth. Devers got one run in with a single into left field, before Antunez crushed a three-run homer which gave Lynchburg a 9-8 lead.
The 'Cats held Fredericksburg off the board for a couple frames, then added on in the bottom of the sixth. Robert Lopez singled and Maick Collado doubled to put two in scoring position. Devers took advantage of the situation and doubled in both runners, to make it an 11-8 ballgame.
Later in the inning, Pres Cavanaugh got a run home with an RBI ground-out to give Lynchburg a 12-8 lead.
Yet the Nationals did not back down. Thomas reached first on a fielder's choice, and then stole second, before Crews picked up his fourth hit in as many at-bats to drive Thomas home and cut the deficit to 12-9.
Morales then doubled to plate Crews, before Pinckney tied the game with a two-run home run with two outs in the top of the seventh.
The game did not stay tied for long, as Lynchburg jumped ahead again in the eighth with a sacrifice fly to make it 13-12.
Down to their final three outs, Crews opened the ninth for Fredericksburg with a walk, followed by a YoYo single. Pinckney pushed both runners over with a ground ball to second base, then Emiliani tied the game yet again with a sacrifice fly to center field, as Crews scored the tying run.
For the day, Crews turned in a 5-for-5 performance with a pair of home runs, six RBIs, four runs scored, a walk, and no strikeouts.
Despite that monster day at the plate, Lynchburg had enough left in the tank.
With two outs and a runner on second base, Genao delivered a walkoff single to give the Hillcats an unbelievable 14-13 win.
Samuel Vasquez got the win, and Marquis Grissom was saddled with the loss.
Fredericksburg welcomes the Augusta GreenJackets to VACU Stadium starting on Tuesday, August 15th.