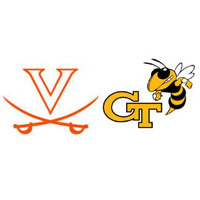 Augusta Free Press editor Chris Graham will lead a live blog during today's ACC football game between UVA (4-4, 2-2 ACC) and Georgia Tech (6-2, 3-2 ACC).
Kickoff is at 3:30 p.m. at Bobby Dodd Stadium in Atlanta.
AFP Pregame Coverage
Virginia Heads to Atlanta for Road ACC Match with Georgia Tech
• Virginia Cavaliers football heads to Atlanta Saturday to face the Georgia Tech Yellow Jackets in the first of two consecutive road ACC games for the Cavaliers. The game will be televised on ESPNU.
• After playing in Atlanta three times over three seasons (2010, 2011, 2012), UVa is playing its first game in the Big Peach since Sept. 15, 2012, a span of 777 days.
Virginia vs. Georgia Tech
• The Yellow Jackets narrowly lead the all-time series, 18-17-1, which dates back to 1965.
• The Yellow Jackets are outscoring UVa in the series by only 38 points, 919-881, over the 36 meetings. Georgia Tech gained the scoring edge with a 36-point win in 2012, followed by a 10-point win last season.
• The series has favored the home team historically. UVa is 10-4-1 all-time at Scott Stadium against Georgia Tech. The Yellow Jackets are 14-7 at Bobby Dodd Stadium against UVa.