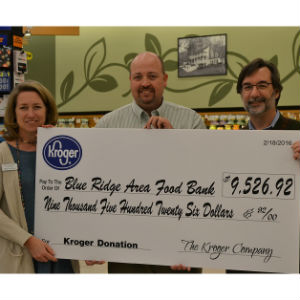 Kroger presented the Blue Ridge Area Food Bank with $9,500 for the fight against hunger.
Kroger stores in the Mid-Atlantic Division donated approximately 235,000 pounds of perishable food to the Food Bank last year.  The perishable food is enough for 196,000 nutritious meals, valued at approximately $400,000.
"We appreciate our partnership with the Blue Ridge Area Food Bank," said Allison McGee, spokesperson for Kroger's Mid-Atlantic division.  "We are providing healthy, balanced meals that include meat, seafood, fruit, vegetables, dairy products and other perishable foods to enhance the health and nutrition of thousands of residents in central and western Virginia.
The check was presented by Brian Simpkins, manager of the Kroger store at 1904 Emmet Street in Charlottesville, to Michael McKee, CEO of the Food Bank.
The $9,500 will be used by the Food Bank to buy food to be distributed to its 195 partner agencies, including food pantries, soup kitchens, homeless shelters and schools in the region.