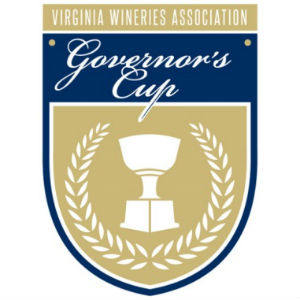 Governor Ralph Northam awarded the 2018 Virginia Wineries Association's Governor's Cup to King Family Vineyards for its 2014 Meritage.
Like all wines entered in the competition it is made from 100 percent Virginia fruit. This is the third time King Family Vineyards has won the Governor's Cup. They also won in 2010 for their 2007 Meritage and in 2004 for a 2002 vintage Cabernet Franc. The Governor's Cup was awarded Tuesday evening, February 27 at the Main Street Station in Richmond, Virginia.
"I am pleased to present this award to winemaker Matthieu Finot and to David and Ellen King of King Family Vineyards as well as their entire team, who have proven again that they are leaders in producing outstanding Virginia wines" said Governor Northam. "I also want to congratulate all of the wineries included in the 2018 Governor's Cup Case. Virginia's wine industry has grown exponentially in recent years, with an enormous impact on economic development and tourism in the Commonwealth, thanks to the hard work of people in wineries across the state."
King Family Vineyards' 2014 Meritage is 100 percent Monticello AVA fruit and 91 percent estate fruit. The wine was aged 18 months in French oak and went through malolactic fermentation. The composition of the wine is 50 percent Merlot, 23 percent Petit Verdot, 21 percent Cabernet Franc, and 6 percent Malbec. The wine shows complexity with notes of bright red fruit, violets and dried rose petals with a youthful and focused structure.
"This is King Family Vineyard's third Governor's Cup win and it is also a win for the Monticello AVA. Well done," Secretary of Agriculture and Forestry Bettina Ring said.
The 2018 Virginia Governor's Cup Competition was conducted over four weeks of preliminary tastings, held at the Capital Wine School in Washington, D.C in January. The final round of tastings was held at The Jefferson Hotel in Richmond in early February. The Governor's Cup award winner was selected from the 2018 Governor's Cup Case, a selection of the top 12 scoring red and white wines chosen from more than 440 entries from 100 wineries. The esteemed panel of judges, including Jay Youmans – one of only 45 Masters of Wine (MW) in the U.S. – had the difficult task of ranking each wine based on a unified scoring system.
In addition to King Family Vineyards' 2014 Meritage, the other 11 wines included in the 2018 Governor's Cup Case are:
· Barboursville Vineyards 2014 Paxxito
· CrossKeys Vineyards 2015 Ali d'Oro
· Early Mountain Vineyards 2015 Eluvium
· Jefferson Vineyards 2016 Viognier
· Jefferson Vineyards 2015 Viognier
· Keswick Vineyards 2016 Cabernet Franc Estate Reserve
· North Gate Vineyard 2015 Petit Verdot
· Potomac Point Winery 2016 Cabernet Franc
· Veritas Vineyards & Winery 2015 Petit Verdot
· Virginia Cellars 2015 The Barns at Hamilton Station Petit Verdot
· Virginia Cellars 2015 The Barns at Hamilton Station Meritage
This year's results offer wide geographic diversity; and patterns are beginning to emerge. The results highlight several regions that are growing grapes with distinction. Six wines are from the Monticello AVA, four wines are from the Northern Virginia area and one is from the Shenandoah Valley.
Also this year's results show wide diversity in the grape varieties being grown across the state. Reflecting that diversity are three Petit Verdots, three Bordeaux style blends, 2 Viogniers, two Cabernet Francs and two dessert wines.
Now in its 36th year, the Virginia Governor's Cup competition was revamped in 2012 to become one of the most stringent and thorough wine competitions in the country. The competition is a result of a partnership among the gubernatorial-appointed Virginia Wine Board (VWB), the Virginia Vineyards Association (VVA), and the VWA, which owns and manages the competition. Any wine made from 100 percent Virginia fruit was eligible for the competition, while ciders and fruit wines had their own category and medalists. All entries included an affidavit with a certification of 100 percent Virginia fruit and vineyard particulars, including grower names and location, as well as information on alcohol, acidity or basicity (pH), and residual sugar.
Both the Governor's Cup Competition and the resulting Governor's Cup Case boost the visibility of the state's highest-scoring wines through various programs and exposure to top industry critics and tastemakers. Wine included in the Governor's Cup Case will be used by the Virginia Wine Board Marketing Office for marketing purposes in Virginia, across the country, and around the world. Governor's Cup Case wines will also be used by Governor Northam on select domestic and international marketing missions and other events designed to promote Virginia's burgeoning wine and winery tourism industries.
According to a 2017 economic impact study, the Virginia wine industry employs more than 8,200 people and contributes almost $1.37 billion to the Virginia economy on an annual basis. Nationwide, Virginia is in the top five states in number of wineries and wine grape production. In 2017, Virginia wine sales reached an all-time high of more than 587,700 cases or over 7.0 million bottles. More than 2.2 million tourists visited Virginia wineries in 2015.
The rapid growth of Virginia's vibrant wine industry has made it one of the fastest growing agricultural sectors in the state. Today, there are over 280 wineries in Virginia, and 300 vineyards that cultivate over 3,800 acres of grapes. Virginia wines have been gaining praise among wine critics for caliber of wines being produced and for the dramatic increases in wine quality in recent years. Both the Governor's Cup® Competition and the resulting Governor's Cup Case® boost the visibility of the Virginia wine region through various marketing programs and exposure to top wine critics and tastemakers.