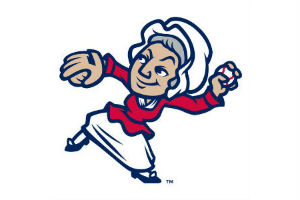 J.T. Arruda had three hits, five RBIs and finished a home run short of the cycle, and the FredNats cruised to a 7-1 win over the Down East Wood Ducks.
Jarlin Susana started for the FredNats in his Single-A debut, and the electric 18-year-old pitcher that came over from San Diego in the Juan Soto trade did not disappoint. Susana hit 103 MPH on the radar guy numerous times, and ended up pitching three innings, allowing six hits, one earned run, one walk and three strikeouts. He threw 68 pitches and 44 strikes.
Ian Moller of Down East homered in the 3rd for the only run of the game for the Wood Ducks. The FredNats broke through in the 5th inning for the second game in a row. T.J. White and Jacob Young both singled, and then Arruda drove them in with a triple that split the outfielders in left center field. Young scored his 100th run of the season on the play, which is the most in Minor League Baseball and tied with Aaron Judge for the most in all of professional baseball.
James Wood drove in Arruda with a sacrifice fly for the third run of the inning and a 3-1 FredNat lead. Wood reached base four times in the game, doubling twice and walking twice.
The FredNats didn't break through again until the 8th when White drove in Trey Lipscomb with an RBI single. White has recorded three hits in each of the first two games of the series. With the bases loaded, Arruda doubled to deep left center field again for the insurance runs the FredNats needed in a 7-1 win.
Bryan Peña (6-2) earned the win, pitching 1.2 scoreless innings of relief after Susana exited. Holden Powell pitched two perfect innings after that, and Cody Greenhill and Marlon Perez finished off the win with scoreless innings each.
The FredNats maintain a 3.5 game lead in the Carolina League North Division, and will be back at it tomorrow at 7:05 p.m. for the second to last Thirsty Thursday of the season.