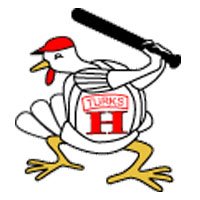 On opening night of the Valley Baseball League season, left fielder Eric Kalbfleisch led the Harrisonburg Turks to a 5-4 walk-off win over the New Market Rebels.
The UNC Greensboro senior finished with three RBIs, including a bases-loaded fielder's choice in the bottom of the ninth inning that won the game for the home team.  Kalbfleisch had opened the scoring in the first inning with an RBI groundout that scored center fielder Thomas Spitz.  Later on in the seventh, he had another RBI infield single that tied the ball game at 4-4.
The Turks had to rally to earn their first win of the season, going into the bottom of the sixth inning down 4-1.  An RBI triple from third baseman Matt Rose cut into the Rebels' lead in the bottom of the frame.  In the seventh inning, a bases loaded walk from second baseman Matt King preceded the Kalbfleisch single that deadlocked the game.
The first half of the game was a defensive affair.  Harrisonburg right-handed pitcher Kyle Lewallyn had a no-hit bid broken up in the fifth inning after he had retired eight consecutive batters.  New Market right-hander Garrett Kelly pitched six innings, allowing just two runs.  Right-hander Tyler Brown earned his first win of the season, allowing no runs in three and two thirds innings; left-hander Joseph Pokrentowski took the loss for New Market.
The Turks return to Veterans Memorial Park on Saturday to host the Strasburg Express at 7:30 p.m.​
Valley League Scoreboard
Game Date: 

05/30/2014


Aldie Senators  2 AT Front Royal Cardinals  4

                                 YTD                                   YTD
Senators           AB  R  H BI   AVG  Cardinals          AB  R  H BI   AVG
J.Strong 2B         3  2  2  0  .667  S.McCain CF         3  1  1  0  .333
J.Consolmagno RF    4  0  2  0  .500  T.Tichenor DH       4  0  1  0  .250
P.Wright 1B         2  0  0  1  .000  W.Polanco SS        4  0  0  0  .000
M.Abraham LF        4  0  0  0  .000  B.Germaine C        4  1  1  0  .250
T.Toorie CF         4  0  1  0  .250   S.Van Horn C       0  0  0  0  .000
M.MacMahon 3B       4  0  0  0  .000  N.Perez LF          4  2  2  0  .500
E.Spivey C          3  0  0  0  .000  H.Newman 1B,3B      3  0  3  3 1.000
K.Corwin SS         3  0  0  0  .000  C.Stevens 1B        3  0  0  0  .000
H.Delatorre DH,P    2  0  0  0  .000   T.Timmer 3B,PH     1  0  0  0  .000
                                      J.Keim 2B           3  0  1  0  .333
                                      J.Russell RF        2  0  0  0  .000
                   29  2  5  1                           31  4  9  3

Senators             1 0 0   0 0 1   0 0 0 -  2  5  3
Cardinals            0 1 0   1 0 1   1 0 x -  4  9  1
2B--J.Strong (1), B.Germaine (1), H.Newman 2 (2). RBI--P.Wright (1),
H.Newman  3 (3). HP--J.Strong (1). SF--P.Wright (1), H.Newman (1).
SH--J.Russell (0). SB--J.Consolmagno (1), S.McCain (1), T.Tichenor (1),
N.Perez (1). CS--T.Toorie (1), S.McCain (1). E--J.Strong 2 (2), K.Corwin
(1), J.Harper (1). 
LOB--Senators 4, Cardinals 6. DP--J. Keim(2B) - W. Polanco(SS) - C.
Stevens(1B), J. Keim(2B) - W. Polanco(SS) - C. Stevens(1B). 
                                                                YTD
                                 IP   H   R  ER  BB  SO  HR     ERA
 Senators
H.Delatorre (L,0-1)             7.0   8   4   2   1   7   0    2.57
Z.Zona                          1.0   1   0   0   0   2   0    0.00
                                8     9   4   2   1   9   0
 Cardinals
J.Harper (W,1-0)                7.0   4   2   1   1   7   0    1.29
T.DUNNE                         1.0   1   0   0   1   0   0    0.00
K.Becker-Menditto (S,1)         1.0   0   0   0   0   1   0    0.00
                                9     5   2   1   2   8   0
WP--J.Harper 2 (2), T.DUNNE 2 (2). HB--J.Harper (1). SO--M.Abraham,
M.MacMahon 3, E.Spivey 2, K.Corwin 2, S.McCain 2, W.Polanco 2, B.Germaine,
C.Stevens, T.Timmer, J.Russell 2. BB--P.Wright, H.Delatorre, S.McCain.
BF--H.Delatorre 30 (30), Z.Zona 4 (4), J.Harper 26 (26), T.DUNNE 4 (4),
K.Becker-Menditto 3 (3). P-S--H.Delatorre 108-74, Z.Zona 17-12, J.Harper
94-60, T.DUNNE 21-11, K.Becker-Menditto 11-6. 
T--2:20.  A--456

Weather: 
Plate Umpire - Michael Ewen, Field Umpire #1 - Steven Shifflett
---
Game Date: 

05/30/2014


Winchester Royals  4 AT Charles Town Cannons  6

                                 YTD                                   YTD
Royals             AB  R  H BI   AVG  Cannons            AB  R  H BI   AVG
Z.Carter 2B         4  0  3  1  .750  J.Harris CF         4  2  2  0  .500
S.Miller LF         4  0  0  0  .000  S.Kerr SS           3  1  1  1  .333
M.Landestoy 3B      4  0  0  0  .000  C.Pal 2B            4  1  1  2  .250
 M.Sillyman PH      1  0  0  0  .000  R.Akins C           4  1  2  0  .500
J.Downs 1B          4  0  0  0  .000  G.Brodzinski 1B     4  1  2  1  .500
C.Bower RF          4  1  2  0  .500  M.Gandy 3B          3  0  1  0  .333
G.Campbell CF       2  2  0  0  .000  W.Endris LF         3  0  0  1  .000
M.Hyman DH          4  1  2  2  .500  Z.Zyburt RF         4  0  0  0  .000
 C.Chafin DH        0  0  0  0  .000  A.Mulato DH         3  0  0  0  .000
A.Mata SS           4  0  2  1  .500       
P.Thomas C          0  0  0  0  .000       
 M.McCafferty C,PH  2  0  0  0  .000       
                   33  4  9  4                           32  6  9  5

Royals               0 2 0   0 0 2   0 0 0 -  4  9  3
Cannons              4 1 0   0 1 0   0 0 x -  6  9  0
2B--J.Harris (1). 3B--M.Hyman (1). RBI--Z.Carter (1), M.Hyman  2 (2),
A.Mata (1), S.Kerr (1), C.Pal  2 (2), G.Brodzinski (1), W.Endris (1).
HP--J.Downs (1). SF--W.Endris (1). SH--S.Miller (0), P.Thomas (0).
SB--Z.Carter 3 (3), J.Downs (1), J.Harris (1), S.Kerr 2 (2). CS--C.Bower
(1). 
LOB--Royals 9, Cannons 5. 
                                                                YTD
                                 IP   H   R  ER  BB  SO  HR     ERA
 Royals
N.Traugh (L,0-1)                1.0   4   4   2   1   2   0   18.00
C.Cantrell                      3.1   2   2   2   0   3   0    5.40
B.Valentin                      2.0   2   0   0   1   1   0    0.00
L.Mould                         1.2   1   0   0   0   1   0    0.00
                                8     9   6   4   2   7   0
 Cannons
T.Otey (W,1-0)                  5.0   6   4   4   3   6   0    7.20
E.Jones                         1.0   0   0   0   1   1   0    0.00
J.Anthony                       3.0   3   0   0   0   3   0    0.00
                                9     9   4   4   4  10   0
WP--N.Traugh 2 (2), C.Cantrell (1), B.Valentin (1), L.Mould (1). HB--T.Otey
(1). SO--S.Miller, M.Landestoy 3, M.Sillyman, C.Bower 2, M.Hyman, A.Mata,
M.McCafferty, J.Harris, S.Kerr, C.Pal, W.Endris, Z.Zyburt 2, A.Mulato.
BB--Z.Carter, G.Campbell 2, P.Thomas, S.Kerr, M.Gandy. BF--N.Traugh 8 (8),
C.Cantrell 12 (12), B.Valentin 9 (9), L.Mould 6 (6), T.Otey 25 (25),
E.Jones 4 (4), J.Anthony 11 (11). P-S--N.Traugh 36-26, C.Cantrell 50-28,
B.Valentin 38-22, L.Mould 22-16, T.Otey 99-56, E.Jones 26-15, J.Anthony
37-27. 
T--2:40.  A--374

Weather: 73 Sunny
Plate Umpire - Steve Williams, Field Umpire #1 - Mike Burke
---
Game Date: 

05/30/2014


Strasburg Express  9 AT Staunton Braves  6

                                 YTD                                   YTD
Express            AB  R  H BI   AVG  Braves             AB  R  H BI   AVG
K.Baron 2B          4  3  2  0  .500  J.Rodriguez CF      3  0  0  0  .000
S.Overton CF        4  2  2  0  .500  D.Gallello 1B       5  1  2  0  .400
A.Payne C           1  1  0  1  .000  R.Ricciardi SS      4  1  0  0  .000
J.Camp 1B           5  1  1  2  .200  B.Delk LF           4  0  0  0  .000
H.Joe RF            4  1  2  1  .500  B.San Martin C      4  1  1  1  .250
L.Wurzelbacher DH   3  1  2  1  .667  G.McNeill DH        4  2  3  0  .750
J.Lizanich SS       5  0  1  0  .200  C.Short 3B          4  0  1  1  .250
T.McDonald 3B       4  0  1  1  .250  E.McCummings RF     5  1  1  1  .200
J.Bonilla LF        4  0  1  0  .250  J.Redovian 2B       4  0  1  0  .250
 J.Ravert PH        0  0  0  0  .000       
 W.Motroni LF,PR    0  0  0  0  .000       
                   34  9 12  6                           37  6  9  3

Express              2 0 1   0 3 1   0 2 0 -  9 12  4
Braves               0 1 0   2 1 2   0 0 0 -  6  9  4
2B--H.Joe (1), G.McNeill (1), J.Redovian (1). RBI--A.Payne (1), J.Camp  2
(2), H.Joe (1), L.Wurzelbacher (1), T.McDonald (1), B.San Martin (1),
C.Short (1), E.McCummings (1). HP--K.Baron (1), T.McDonald (1), R.Ricciardi
(1). SF--A.Payne (1). SH--S.Overton (0), J.Rodriguez (0), C.Short (0).
SB--K.Baron 2 (2), S.Overton 2 (2), L.Wurzelbacher (1), D.Gallello (1),
G.McNeill 2 (2), C.Short (1), E.McCummings (1). CS--H.Joe 2 (2), J.Bonilla
(1). E--J.Lizanich 2 (2), T.McDonald 2 (2), C.Short (1), J.Redovian 3 (3). 
LOB--Express 12, Braves 12. DP--R. Ricciardi(SS) - J. Redovian(2B) - D.
Gallello(1B). 
                                                                YTD
                                 IP   H   R  ER  BB  SO  HR     ERA
 Express
D.Hafer                         4.0   5   3   2   1   1   0    4.50
J.Mauldin (W,1-0)               1.0   2   1   1   1   2   0    9.00
S.Wallace                       0.1   2   2   0   1   0   0    0.00
H.Abbe                          1.2   0   0   0   2   2   0    0.00
S.Ward (S,1)                    2.0   0   0   0   0   3   0    0.00
                                9     9   6   3   5   8   0
 Braves
C.Beck (L,0-1)                  4.2   6   6   4   4   3   0    7.71
D.Shifflett                     1.1   1   1   0   1   0   0    0.00
D.Horne                         1.0   1   0   0   1   1   0    0.00
B.Ritchie                       1.0   4   2   2   2   2   0   18.00
J.Smetana                       1.0   0   0   0   2   1   0    0.00
                                9    12   9   6  10   7   0
WP--C.Beck 3 (3), B.Ritchie (1). PB--A.Payne 3, B.San Martin. HB--D.Hafer
(1), C.Beck 2 (2). SO--K.Baron, S.Overton, H.Joe, J.Lizanich 2, T.McDonald,
J.Bonilla, D.Gallello, B.Delk 3, C.Short 2, E.McCummings, J.Redovian.
BB--K.Baron, S.Overton, A.Payne 4, H.Joe, L.Wurzelbacher 2, J.Ravert,
J.Rodriguez, B.Delk, B.San Martin, G.McNeill, J.Redovian. BF--D.Hafer 21
(21), J.Mauldin 6 (6), S.Wallace 5 (5), H.Abbe 7 (7), S.Ward 6 (6), C.Beck
26 (26), D.Shifflett 5 (5), D.Horne 4 (4), B.Ritchie 8 (8), J.Smetana 5
(5). P-S--D.Hafer 56-36, J.Mauldin 34-18, S.Wallace 14-9, H.Abbe 28-13,
S.Ward 29-20, C.Beck 93-56, D.Shifflett 12-8, D.Horne 22-12, B.Ritchie
35-18, J.Smetana 20-10. 
T--3:22.  

Weather: 

---
Game Date: 

05/30/2014


New Market Rebels  4 AT Harrisonburg Turks  5

                                 YTD                                   YTD
Rebels             AB  R  H BI   AVG  Turks              AB  R  H BI   AVG
T.Vitaletti CF      4  1  1  0  .250  T.Spitz CF          2  1  1  0  .500
T.Dofflemyer SS     3  1  1  1  .333  C.Barr 1B           3  0  1  0  .333
D.Carpenter 3B      4  1  1  1  .250  H.King 2B           2  1  0  1  .000
D.Wyshinski LF      3  0  0  0  .000  E.Kalbfleisch LF    5  0  1  3  .200
J.Smith RF          4  0  0  1  .000  M.Rose 3B           4  0  2  1  .500
J.Chittester 1B     2  0  1  0  .500  J.Roach C           3  0  1  0  .333
W.Haymaker C        4  0  1  1  .250  B.Breazeale DH      4  1  1  0  .250
R.Phillips 2B       3  1  0  0  .000  S.McLean SS         4  0  0  0  .000
G.Kelly DH,P        3  0  0  0  .000  J.Whitley RF        1  1  0  0  .000
                                       L.Czajkowski PH    1  1  1  0 1.000
                   30  4  5  4                           29  5  8  5

Rebels               0 0 0   0 0 4   0 0 0 -  4  5  2
Turks                1 0 0   0 0 1   2 0 1 -  5  8  2
3B--M.Rose (1). RBI--T.Dofflemyer (1), D.Carpenter (1), J.Smith (1),
W.Haymaker (1), H.King (1), E.Kalbfleisch  3 (3), M.Rose (1). SH--T.Spitz
(0), H.King (0), J.Roach (0). SB--T.Dofflemyer (1), T.Spitz 2 (2), J.Roach
(1). CS--T.Dofflemyer (1). E--T.Dofflemyer (1), J.Chittester (1), H.King
(1), M.Rose (1). 
LOB--Rebels 5, Turks 10. DP--D. Carpenter(3B) - J. Chittester(1B), M.
Rose(3B) - H. King(2B) - C. Barr(1B), R. Phillips(2B) - J. Chittester(1B),
S. McLean(SS) - T. Brown(P) - H. King(2B) - C. Barr(1B), T. Dofflemyer(SS)
- R. Phillips(2B) - J. Chittester(1B). 
                                                                YTD
                                 IP   H   R  ER  BB  SO  HR     ERA
 Rebels
G.Kelly                         6.0   5   2   2   4   2   0    3.00
T.Rahauser                      1.0   1   2   0   3   2   0    0.00
J.Pokrentowski (L,0-1)          1.1   2   1   0   1   1   0    0.00
                              8.1     8   5   2   8   5   0
 Turks
K.Lewallyn                      5.1   3   4   1   4   3   0    1.69
T.Brown (W,1-0)                 3.2   2   0   0   2   0   0    0.00
                                9     5   4   1   6   3   0
SO--D.Carpenter, J.Smith, G.Kelly, C.Barr, M.Rose, J.Roach, B.Breazeale,
S.McLean. BB--T.Dofflemyer, D.Wyshinski, J.Chittester 2, R.Phillips,
G.Kelly, T.Spitz 2, C.Barr 2, H.King 2, J.Whitley 2. BF--G.Kelly 24 (24),
T.Rahauser 7 (7), J.Pokrentowski 9 (9), K.Lewallyn 22 (22), T.Brown 14
(14). P-S--G.Kelly 95-56, T.Rahauser 27-14, J.Pokrentowski 25-13,
K.Lewallyn 97-54, T.Brown 57-39. 
T--2:33.  

Weather: 

---
Game Date: 

05/30/2014


Covington Lumberjacks  7 AT Woodstock River Bandits  3

                                 YTD                                   YTD
Lumberjack         AB  R  H BI   AVG  R. Bandits         AB  R  H BI   AVG
B.Edwards SS        5  1  1  1  .200  A.Pigna SS          4  0  0  0  .000
J.Carrera 2B        4  2  2  0  .500  D.Paone RF          4  0  0  0  .000
M.ONeil 3B          3  0  2  3  .667  L.Hoggarth CF       2  1  0  0  .000
J.Leech C           5  1  1  1  .200  E.Puerta 1B         4  1  2  1  .500
G.McKown 1B         4  1  2  1  .500  M.Snyder 2B         3  0  0  0  .000
B.James LF          4  0  1  0  .250  Z.Jarrett LF        4  1  0  0  .000
K.Wortman RF        4  0  0  0  .000  J.Worthly DH        3  0  0  0  .000
C.Strong DH         4  1  1  0  .250  A.Lewis 3B          3  0  0  0  .000
D.Moorer CF         2  1  0  0  .000  J.Armstromg C       3  0  0  0  .000
                   35  7 10  6                           30  3  2  1

Lumberjack           0 0 2   1 0 0   0 2 2 -  7 10  4
R. Bandits           0 0 0   1 0 0   0 0 2 -  3  2  0
2B--J.Carrera (1), G.McKown (1), E.Puerta (1). RBI--B.Edwards (1), M.ONeil 
3 (3), J.Leech (1), G.McKown (1), E.Puerta (1). HP--D.Moorer (1).
SF--M.ONeil (1). SH--M.ONeil (0). SB--B.Edwards (1), J.Carrera 2 (2),
C.Strong (1). E--B.Edwards (1), J.Carrera (1), M.ONeil (1), J.Rocchietti
(1). 
LOB--Lumberjack 6, R. Bandits 6. 
                                                                YTD
                                 IP   H   R  ER  BB  SO  HR     ERA
 Lumberjack
J.Rocchietti                    6.0   1   1   0   0   3   0    0.00
C.Strayer                       3.0   1   2   0   3   4   0    0.00
                                9     2   3   0   3   7   0
 R. Bandits
M.OReily                        5.0   5   3   3   0   5   0    5.40
R.Bennett                       3.0   3   2   2   1   1   0    6.00
R.Douglas                       0.1   2   2   2   1   0   0   54.05
C.Maxey                         0.2   0   0   0   0   0   0    0.00
                                9    10   7   7   2   6   0
WP--C.Strayer 2 (2), M.OReily 2 (2), R.Douglas (1). PB--J.Armstromg.
HB--M.OReily (1). SO--J.Carrera, J.Leech, B.James, C.Strong 2, D.Moorer,
A.Pigna 2, D.Paone, J.Worthly 2, J.Armstromg 2. BB--J.Carrera, D.Moorer,
M.Snyder, J.Worthly, J.Armstromg. BF--J.Rocchietti 19 (19), C.Strayer 14
(14), M.OReily 21 (21), R.Bennett 13 (13), R.Douglas 4 (4), C.Maxey 2 (2).
P-S--J.Rocchietti 55-37, C.Strayer 58-32, M.OReily 90-63, R.Bennett 49-32,
R.Douglas 15-7, C.Maxey 9-7. 
T--2:26.  

Weather: 67_ Sunny

| VBL | W | L | PCT | GB | STREAK | L10 |
| --- | --- | --- | --- | --- | --- | --- |
| Front Royal Cardinals | 1 | 0 | 1.000 | – | 1W | 1-0 |
| Charles Town Cannons | 1 | 0 | 1.000 | – | 1W | 1-0 |
| Covington Lumberjacks | 1 | 0 | 1.000 | – | 1W | 1-0 |
| Harrisonburg Turks | 1 | 0 | 1.000 | – | 1W | 1-0 |
| Strasburg Express | 1 | 0 | 1.000 | – | 1W | 1-0 |
| Woodstock River Bandits | 0 | 1 | 0.000 | 1 | 1L | 0-1 |
| Staunton Braves | 0 | 1 | 0.000 | 1 | 1L | 0-1 |
| New Market Rebels | 0 | 1 | 0.000 | 1 | 1L | 0-1 |
| Aldie Senators | 0 | 1 | 0.000 | 1 | 1L | 0-1 |
| Winchester Royals | 0 | 1 | 0.000 | 1 | 1L | 0-1 |
| Waynesboro Generals | 0 | 0 | 0.000 | | – | 0-0 |
---
Next 3 days games:
May 31

 - Cardinals @ Cannons 7:00pm
May 31 - Royals @ Lumberjack 7:00pm
May 31 - Express @ Turks 7:30pm
May 31 - Generals @ Rebels 7:30pm
May 31 - R. Bandits @ Senators 

7:30pm




June 1

 - Lumberjack @ Senators 

6:00pm




June 1

 - Cardinals @ Royals 

7:00pm




June 1

 - Express @ Generals 

7:00pm




June 1

 - R. Bandits @ Cannons 

7:00pm




June 1

 - Turks @ Braves 

7:30pm