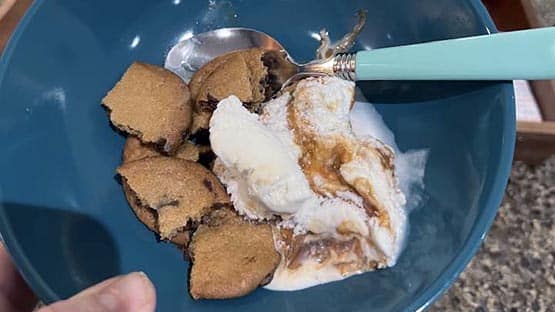 You have to choose between ice cream or cookies, I heard myself saying, to a couple of friends this weekend, sounding just like a mom.
It occurred to me how much of an old lady I really am when trying to hang with a 20-something friend this weekend.
After a day chock full of activity: A visit to a winery, time with the dogs and in the swim spa, and dinner at Waynesboro's newest Italian restaurant, Patina, I found myself sounding just like any parent as we made a choice for dessert.
The four of us were pondering going out for ice cream for dessert or baking chocolate chip cookies at home. I mean, a 20-something can still eat anything and stay skinny, right? Not so much for this mid-40s woman, that's for sure.
I mean, we already had split a charcuterie board and some hummus at a local winery. And our Italian dinner included two bowls of bread, three appetizers and we each had a main course not to mention cocktails.
But it wasn't only that statement that made me look and feel old.
My 20-something friend quickly collected herself after the swim spa to get ready for dinner – throwing on a cute Banana Republic skort over her bikini and asking me for some kind of jacket to throw on with her puffy sleeve swim top for dinner out.
What did this plus size girl have for my size zero friend to throw on? Pretty sure the answer was nothing. But she managed to throw on a jean jacket of mine and still look one hundred times more put together than me.
Such is life. We all get old, right?
My 20-something friend also reminded me of my younger days – broke and up for anything.
I managed to keep up for the most part, but by 11 p.m., I was spent. I had just returned from a three-day trip to Baltimore followed by three days in Rehoboth Beach, Del. This girl needed her sleep.
One thing is for sure … I can hang with a 20-something for a day or two max.
I wouldn't go back to my 20s for anything. Sure, I looked cute back then in a little sunflower dress with short blonde hair.
I still wouldn't trade where I am now in life with that younger version of me. I like being in my 40s and being more financially stable – enjoying vacations and home improvement projects, having access to better clothes and makeup products, for example.
Being 20 is fun, but being in my mid-40s is a lot more rewarding. Hanging out with my 20-something friend reminded me that life is good at any age.
And for the record, we chose chocolate chip cookies with a quart of store-bought salted caramel vanilla ice cream. So we didn't have to choose after all. How's that for adulting?