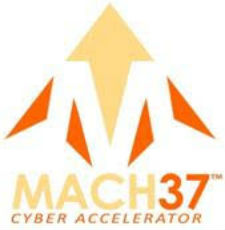 Governor Terry McAuliffe announced today a significant new public-private partnership that will speed the launch of new cybersecurity products and companies in Virginia, leading to new jobs and revenue. General Dynamics Mission Systems will now serve as a sponsor of the MACH37 Cyber Accelerator through an innovative funding and mentorship agreement.
"Cultivation of the next generation of cybersecurity, products and services is key to the continued development of the new Virginia economy," said Governor McAuliffe. "Today's announcement shows that government can leverage the capital and intellectual assets of the private sector for development of innovative new companies and jobs. We are grateful to General Dynamics Mission Systems for their support of targeted economic development in our Commonwealth.
The Mach37Cyber Accelerator program is designed to harvest university, industry and government cybersecurity assets to create innovative cybersecurity products and companies in Virginia. The program is administered by the Center for Innovative Technology (CIT) and originally was funded by the Virginia General Assembly. The Platinum Sponsorship just acquired by General Dynamics Mission Systems was created to supplement the original MACH37 funding. Sponsors directly participate in development of the most innovative cybersecurity product concepts in the market.
"The MACH37 Cyber Accelerator is a prime example of how we are fostering growth by attracting the best talent in the world to Virginia," noted Secretary of Technology Karen R. Jackson.  "Growth in the cybersecurity sector is valuable to Virginians for many reasons, so I'm particularly proud that the Commonwealth has become known globally as a premier location for cyber security innovation."
"Our job is to help our customers successfully execute their missions in a domain that is predictably unpredictable," said Nadia Short, vice president and general manager of the Cyber Systems line of business for General Dynamics Mission Systems. "MACH37 gives us access to Virginia's smartest minds and technologies, accelerating the delivery of cybersecurity products and solutions that our customers need, when they need it."
Initiated by CIT, the MACH37 program is an intense 90-day program in which competitively selected startups are coached in all aspects of creating a successful and sustainable business. Upon the completion of each session, the startups participate in a Demo Day where they pitch to a crowd of investors and industry experts.  Since opening in September 2013, MACH37 has held five classes and launched 29 new cybersecurity companies.
The MACH37 Cyber Accelerator is currently accepting applications from information security product startups and security entrepreneurs to participate in its Spring 2016 (S16) Cohort session that begins on March 14th. Entrepreneurs with emerging products and companies from any geography are encouraged to apply and to immerse themselves in a mentorship program designed to produce the next generation of leading security product companies.
To submit an application visit: mach37.com/apply.