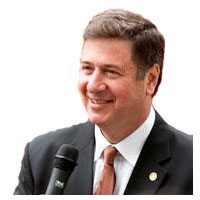 Sixth District Congressman Bob Goodlatte and former governor and U.S. senator George Allen have successfully fought off respective Republican Party nomination challenges.
With more than 90 pecent of the precincts in the Sixth reporting, Goodlatte is leading retired military analyst Karen Kwiatkowski with 65.8 percent of the vote, and with nearly 80 percent of the precincts statewide reporting, Allen is leading a field of three conservative challengers with 65.1 percent of the vote.
Voter turnout in the Sixth District was a bit higher than had been projected going into Tuesday's primaries, with more than 7 percent of the district's voters turning out at the polls, pacing ahead of projections that had turnout pegged in the 4 to 6 percent range.
Turnout statewide was within projections, at 4.2 percent with votes still to be counted at locations statewide.
Kwiatkowski, a political newcomer, still did quite well even in defeat, polling more than 10,000 votes in her first political campaign. A libertarian with support from Tea Party groups across the district, Kwiatkowski challenged the 20-year incumbent's conservative credentials on the campaign trail in the Sixth.
Allen faced a trio of challengers who took the same approach to trying to strike at his record in Congress and the governor's mansion. The most successful of his challengers was former Tea Party state leader Jamie Radtke, who was polling more than 23 percent of the vote with votes still to be counted Tuesday night.
Goodlatte will face Democratic nominee Andy Schmookler in the November election in the Sixth District. Allen will face Democratic nominee Tim Kaine in the Senate race in November.