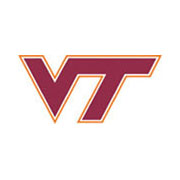 Virginia Tech Director of Athletics Whit Babcock announced Tuesday that former Hokie football All-American Kevin Jones will join his staff as Special Assistant to the Athletic Director.
"Kevin brings an extremely unique and valuable perspective and skill set to our department, which we are excited about," Babcock said. "His experience as a student-athlete here, his successful pro career, and then returning to campus to complete his degree speaks volumes about his values and commitment. I'm very pleased to welcome Kevin, Robyn and his family back into the Hokie family in this formal capacity. He will make our student-athletes and all of our teams and programs better on many fronts. It's a good day for the Hokies."
Jones, a consensus All-American running back at Tech in 2003, is scheduled to assume the new position on July 10. His duties will include representing the Director of Athletics and Virginia Tech Athletics at a variety of campus and off-campus functions and meetings, serving as a role model and mentor for Tech's current student-athletes in all sports and developing and growing successful relationships with former student-athletes, with a particular emphasis on those competing professionally.
The job will also entail assisting in the recruiting process for many sports in accordance with NCAA rules, along with successful interaction and relationship building with campus administrators and local and regional business leaders and donors. Additional aspects will include outreach efforts and fundraising.
"Whit has a vision for Virginia Tech Athletics and a plan to realize it," Jones said. "I'm truly honored to be a part of his vision. My role as Special Assistant to the A.D., is not just about me as a former football player, it's about having balance as a student and as an athlete. I'm more interested in that space between the playing field and the classroom; education and athletics … what an opportunity."
A native of Chester, Pennsylvania, Jones was rated the nation's No. 1 overall high school football recruit when he signed with Tech in 2001. He went on to amass 3,475 yards on the ground over three seasons, which still stands as the second-highest career rushing total at Tech. He earned consensus All-America honors as a junior in 2003 after rushing for a then-school season record 1,647 yards.
Jones entered the NFL Draft following his junior season and was a first-round pick of the Detroit Lions. He went on to play four seasons with the Lions and one with the Chicago Bears before a foot injury cut short his playing career. During his first season with the Lions, Jones rushed for 1,133 yards, becoming only the third running back in franchise history to rush for 1,000-plus yards his rookie season, joining the ranks of Billy Sims and Hall of Famer Barry Sanders.
"Kevin Jones, what a great football player and, even more, a great person," Tech head football coach Frank Beamer said. "Having him connected with Virginia Tech is fantastic. Kevin has shown he knows the value of an education. I think our student-athletes in all sports will listen to his advice."
In the spring of 2011, Jones showed his commitment to academics when he returned to Blacksburg to fulfill a promise he had made to himself to finish his college education. This past May, Jones received a BS in industrial design from the Tech College of Architecture and Urban Studies, along with a minor in art history.
Jones is married to the former Robyn Daniel and the couple has three children: Kevin, Jr., 7; Kennedy, 5; and Kensington, 4. Robyn served as Tech's Class of 2005 President and recently completed a master's in educational leadership and policy studies. She served on the Virginia Tech Board of Visitors in 2013 as the graduate student representative.