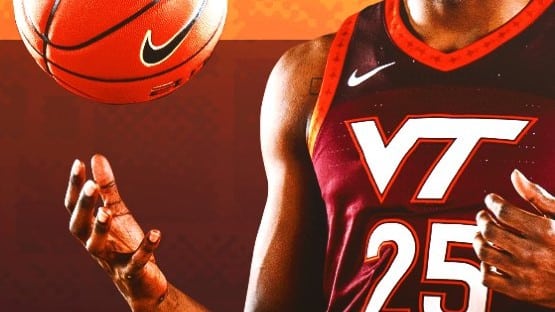 The inability to close out teams has hurt Virginia Tech's men's basketball team a few times this season, leading to all three of their losses.
Poor second halves saw them lose to College of Charleston and then Boston College last week, and it happened once again on Sunday in a 77-75 loss at Wake Forest that saw the Hokies drop to 1-2 in the ACC.
Tech was slow out of the gates in the second half and soon found themselves down double digits despite being level at the break, but the Hokies managed to rally a couple of times to pull within striking distance, only to struggle with rebounding and missing Hunter Cattoor massively. While Tech won the rebounding battle 39-38, they allowed 14 offensive rebounds, limiting possessions as the Demon Deacons hit 11 of 28 3-pointers on the night. Tech also got into foul trouble as Wake scored 20 of its points from the line.
For head coach Mike Young, the difficulty of winning on the road is underestimated by most.
"Winning on the road's really hard," said Tech coach Mike Young, according to The Roanoke Times. "I don't care what league you're in. Going to Lexington and beating VMI is really hard.
"We've squandered two opportunities, at BC and at Wake Forest. [The] Hokies are going to be OK."
Not having Cattoor on the court was evident as the team struggled from deep, hitting just 6-for-21, and he's also Tech's top perimeter defender. Time and time again Wake were able to get into the lane and kick the ball out for 3-point attempts.
Tyree Appleby had 24 points for Wake, a game-high, while Andrew Carr had 14 points.
"We're not playing to the best of our abilities right now," said Tech forward Justyn Mutts. "We've got a long way to go."
Cattoor nursed his injured left arm, a bruised elbow to be specific, but despite being cleared Young decided to rest him. Cattoor averages just under 10 points per game and is the team's leading 3-point shooter.
"He feels great," Young said. "We had a shot to play him today. But he's very close. I think he'll play on Wednesday [versus Clemson]. I just thought it was in his best interest and our team's best interest to hold onto him for a night here. He's still a little tender, he's still got some bruising on that elbow."
Mutts led the way with 18 points, 11 rebounds and three blocks, but the team's lack of fluidity without Cattoor was evident.
"His defensive presence is huge, his intelligence as a basketball player, and that's something you can't really just replace," Mutts said. "Not having him hurts."
Young said the Hokies did not handle Cattoor's absence well, and prized recruit Rodney Rice did not feature. He went to a big lineup to try and compensate defensively, and it just did not go as planned, but it nearly did.
"Played out exactly the way you hoped it would play out, a long miss, and we don't have nose enough for it to go get it," Young said of two late offensive rebounds for Wake. "Those intangibles, those little plays, get you out of tight spots like this one. And they made a few more of them than we did."
Tech fans should be reminded that the Hokies started 0-4 in the ACC last season and rallied to win the conference tournament. There is still a long way to go, but the last two losses leave a sour taste in their mouths that they hope to rinse clear on Wednesday in the new year.