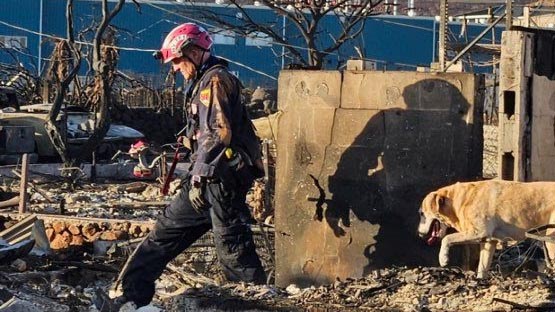 Devastating events like the one in Hawaii may cause considerable community stress or trauma, according to a disaster resilience expert at Virginia Tech.
Liesel Ritchie, an associate director of the Center for Coastal Studies, has traveled to disaster sites all over the world to work with communities after a disaster.
"The social upheaval associated with these natural and human-caused events is not only immediate, with the loss of lives, homes and livelihoods, but it is long-lasting and can take communities years to recover," said Ritchie.
It's not yet clear what caused the fires, but Ritchie's research shows that when disaster events are caused by human actions or are worsened by human inaction, issues of blame and responsibility can hinder community recovery.
"There is potential for this in the case of the Hawaii wildfires, given that local officials decided not to activate the warning sirens, which might well have saved lives and property. It is also not clear as to the exact cause of the fires. There is some speculation that downed power lines sparked the initial flames, which further exacerbates uncertainty in the situation," she said.
With all the uncertainty about what's happened, Ritchie says research on other disasters suggests that we will see considerable community stress and trauma.
"This can become exacerbated over time, if attention is not paid to the emotional and mental health needs of those most directly affected," said Ritchie. "We know based on experience and research that there is a high likelihood that there will be tension between those who want to build back quickly and others who want to "build back better."
"It will be a balancing act, as the Lahaina community works to move forward not only with rebuilding its physical infrastructure, but with its social systems, as well."
Tips for giving to Hawaii
Ritchie says it's important to keep in mind that while this tragedy will soon be lost amidst coverage of other events in the news, the people of Maui will need support in the coming weeks, months and years to move beyond this disaster.
"Even after a natural disaster has ended people are going to need help; they're going to need financial support, and they're going to need social support," said Ritchie.
The Better Business Bureau of Western Virginia offers tips and guidance to consumers wishing to help aid in the relief efforts in Maui.
Visit Give.org to verify if a charity meets BBB Standards for Charitable Accountability. Take the time to find out how the organization will address immediate or long-term needs.
Double-check crowdfunding sites. Keep in mind that some crowdfunding sites take precautions in carefully screening, vetting, and managing postings, while others may not. Review the crowdfunding site to find out about posting procedures, transaction fees, and other specifics. If a crowdfunding site claims to pass any collected funds to a charity, consider donating on the charity's website directly.
Be wary of "100 percent" claims. Watch out for claims that all donations will go to victims and their families. While a charity may be using other funds to cover administrative and fundraising expenses, that does not mean those costs don't exist. Ask how much of your donation will assist victims directly.
Use caution online. Never click on links to unfamiliar charity websites or in text messages or emails. These may take you to look-alike websites where you will be asked to provide personal financial information. Some websites could even download harmful malware onto your computer. Don't assume that charity recommendations on social media have already been vetted.
Check for government registration. Most states require charities to register with a state government agency before they solicit charitable gifts. While registration with a government agency does not mean the government is recommending or endorsing the charity, it does show the group has filed the appropriate required paperwork.