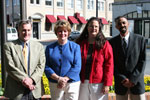 Story by Chris Graham
[email protected]
 
The Waynesboro Education Association announced today its endorsements in the upcoming May 4 city elections – giving its nod to Lorie Smith and Robert Johnson for City Council and Kathe Maneval and Jeremy Taylor for School Board.
 
Free read from AFPTheMagazine.com. Includes a story and video interviews.
The endorsements from the WEA's political action committee come with $200 contributions to the campaigns of the candidates in the contested races – Smith, Johnson and Maneval.
Smith, Maneval and Taylor, who is running unopposed for re-election to the Ward C seat on the School Board, had received endorsements in campaigns from the WEA in past runs.
"We have worked closely with them over the past four years to improve student achievement and to find the best ways to retain and to attract highly-qualified teachers. Having their support means a great deal to me," said Maneval, who is being challenged for re-election to her Ward D School Board seat by Jennifer Jones.
WEA president Rosemary Wagoner praised Maneval and Taylor, both of whom are finishing up their first terms on the School Board, for being active Board members from their first few weeks on the governing body.
"They jumped in with both feet and worked tirelessly for the school division, supporting both students and employees. We're really pleased that they're running again and that we can endorse them," Wagoner said.
"In these tough budget times, we need people that have a wide breadth of skills and knowledge and are willing to listen to all sides. We can't afford when we're having to make tough choices to have School Board members who might be looking at one issue," Wagoner said.
Smith had received two previous WEA endorsements – in 2002 when she ran for the School Board and in 2006 in her first campaign for the Ward D seat on City Council.
"One thing we like about Lorie is that she looks also at all sides and works to find a balance, that we're not leaning to one side or the other or one specific issue or the other," Wagoner said.
"She really cares about this city. Sometimes you get candidates, politicians, that may have one focus and may be not looking at the city as a whole. Maybe because Lorie grew up here and has lived here all her life, but she really cares about this city, and people admire that," Wagoner said.
Smith said her priority as an elected official "has always been to keep children at the forefront of any of the priorities that we have in the city."
"It's very important to me that we deliver a quality K-12 education in that we're working towards funding the School Board at a very appropriate level and that we're not letting our kids do without. My service on the School Board and on the Council has certainly worked towards that end, and when I'm re-elected I intend to make sure that K-12 education remains a priority in Waynesboro," Smith said.
Johnson, a candidate for the Ward C seat on City Council, is a newcomer to city politics, but as the chairman of the Waynesboro Transportation Safety Commission, "he understands how the city process works, and he wants to be a member of a team," Wagoner said.
"He doesn't want to get on Council and just be after one issue. That's important to us who look at the whole picture," Wagoner said.
"I do fully support our children's education. I believe their education is a priority for us because our children are our future. We're in a global economy now, and I feel that we need to have our children well-educated and well-informed and willing to take on the world in that aspect," Johnson said.
 
Video: The WEA endorsements