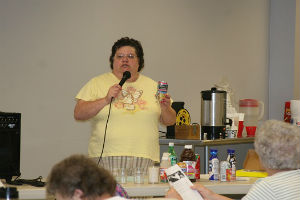 Kim Joralemon of the Virginia Cooperative Extension spoke to 21 East Rockingham Senior Center members and 3 volunteers on May 22.
Mrs. Joralemon gave a thorough overview of sugar sweetened beverages, provided members with a list of 25 names for sugar, and also noted how much revenue is generated from the sale of sugar sweetened beverages. She also advised us that one of the most popular fast food chains uses 5 lbs. of sugar for each mixing of their sweetened ice tea!
There was much discussion among members about the types of beverages they consume and those that are least healthy and those that are most nutritious.
Mrs. Joralemon will continue the nutritional series on June 17 about "Sneaking More Fruits and Vegetables into Your Diet."
More online at www.EastRockinghamSeniorCenter.org.