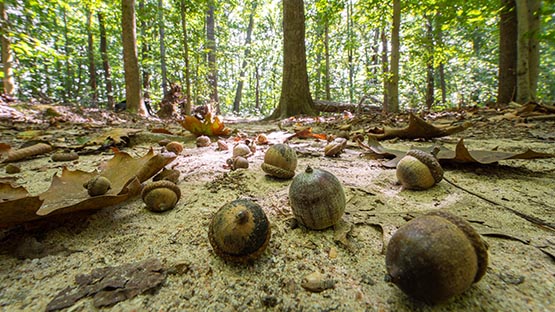 Acorns are falling all over yards, parking lots and sidewalks, and it's tempting to clean them up and throw them out. However, the Virginia Department of Forestry is asking Virginians to help collect acorns and nuts and drop them off to be planted at its Augusta Nursery.
Through statewide collection efforts, DOF nurseries plant more trees, of more species, from varied genetics.
The resulting seedlings are then sold to Virginia landowners, typically to reforest open lands.
Acorns may be dropped off at any DOF office location by Oct. 16.
For more information about acorn collection, contact the Augusta Nursery at (540) 363-7000.
DOF needs the following species this year:
Black Oak
Chestnut Oak
White Oak
Black Walnut
Chinese Chestnut
Northern Red Oak
Pin Oak
Shumard Oak
Southern Red Oak
Swamp Chestnut Oak
Swamp White Oak
Water Oak
Willow Oak
Acorn collection tips
Safety first. Stay away from roadways.
Look for whole, uncracked acorns that are dark brown or green. Collected acorns do not need caps.
Do not collect on private property without permission.
Place in a paper bag. Please do NOT use plastic bags.
Use a separate bag for each species.
Label the bag with the collection date and species (if known). If you're not sure, include a few leaves from the tree to help us with identification.
Place in a cool area until you're ready to drop them off
Collection from yards, sidewalks, driveways, etc., is recommended, to ensure collection of a single species. (Forest collection makes it difficult to determine the tree of origin and often leads to mixing of acorn types.)
Avoid sticks, leaves, gravel and debris.