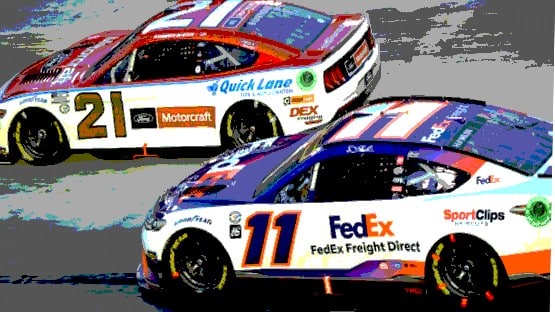 Denny Hamlin has been for the 2023 NASCAR Cup Season, outspoken and blunt about a lot of things.
Saturday night, he backed it up on the high banks of Bristol by leading the race's final 135 laps, topped 142 circuits overall and beat Kyle Larson to the start-finish line by 2.437 seconds on his way to his third win of the season and 51st of his career, all while claiming victory in the Bass Pro Shops Night Race.
The Chesterfield native also moved one step closer to finally claiming an elusive NASCAR Cup Series championship.
"I can't thank this whole FedEx team enough," said Hamlin despite a loud chorus of jeers from the crowd after collecting the checkered flag. "It's amazing how good this team has been. I can't wait to keep going."
The driver of the #11 Toyota for Joe Gibbs Racing has won just about all the top events you can in NASCAR, three Daytona 500s, three Southern 500s and now three Bristol Night Races. But one thing has eluded the 42 year-old driver; A NASCAR Cup Series Championship.
This year, Hamlin finally sees a path to the biz prize. "It's our year," Hamlin said. "We have it all put together. There's nothing to stop us at this point."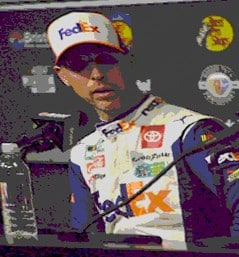 When asked if the fans are motivation for him, including the loud jeers and boos, Hamlin shrugged it off with a smile on his face.
"Hey, I beat your favorite driver," replied Hamlin to the fans. When asked to clarify his statement as to who he was referring, Hamlin smiled and said, "All of them."
Saturday's race was the first cutoff race of this year's NASCAR Cup Series playoffs, with the number of championship contenders dropping from 16 to 12 following Hamlin's victory.
Defending Cup Series champion Joey Logano, Ricky Stenhouse Jr., Michael McDowell and Kevin Harvick, in his last Bristol appearance as a full-time driver, were eliminated from the playoffs.
"We've been hit or miss all year and tonight we missed by a mile," Harvick said. "I didn't have many expectations with as up-and-down as the year has been."
Logano was caught up in the night's biggest wreck, a six-car incident entering Turn 3 just after the start of the final stage on Lap 263 that began when Corey Lajoie (48 laps led) spun on the backstretch.
"It's a little uncharacteristic for us right now and we just have to go to work and keep our heads down and stay faithful in each other, keep trusting each other that we can figure it out," said Logano, who had started the race 12 points above the cutline for elimination.
"It's still the same team that won the championship last year.  We're a little lost at the moment, but we'll keep fighting and try to figure some things out," responded Logano.
While four drivers were eliminated, two others were elated to advance, particularly Cup Series regular season champion Martin Truex Jr. and Bubba Wallace, who entered the race seven and 19 points behind the playoff cutline.
Among other championship contenders, Brad Keselowski finished eighth, points leader William Byron was ninth and Tyler Reddick was 15th.
Kyle Larson, who finished second, qualified last on Friday after a tire issue despite posting the fastest practice speed, was second, followed by Stage 1 and 2 winner Christopher Bell in third, Chris Buescher in fourth and Cup Series rookie Ty Gibbs (102 laps led) in fifth.
"The race went a lot better than I thought it would," Larson said. "I feel like we had the second-best car. I just didn't have the pace of Denny. He was really fast."
Hamlin completed the 500 laps around the .533-mile concrete oval in 2 hours, 48 minutes, 20 seconds with an average speed of 94.99 mph. Six caution flags took up 53 laps, with six drivers exchanging the lead 10 times and 10 drivers finishing on the lead lap.
The Round of 12 Playoffs begins next weekend, Sept. 24, with the AutoTrader EchoPark Automotive 400 at Texas Motor Speedway in Fort Worth, Texas.
Bass Pro Shops Night Race
NASCAR Cup Series Playoffs
Final Results
Bristol Motor Speedway
Sept. 16, 2023
Denny Hamlin
Kyle Larson
Christopher Bell
Chris Buescher
Ty Gibbs
Michael McDowell
Chase Elliott
Brad Keselowski
William Byron
Ricky Stenhouse Jr.
Carson Hocevar
Ryan Preece
Alex Bowman
Bubba Wallace
Tyler Reddick
Todd Gilliland
Austin Dillon
Aric Almirola
Martin Truex Jr.
Kyle Busch
Daniel Suarez
Ryan Blaney
Ross Chastain
Erik Jones
Corey LaJoie
JJ Yeley
Chase Briscoe
Harrison Burton
Kevin Harvick
AJ Allmendinger
BJ McLeod
Austin Cindric
Ty Dillon
Joey Logano
Justin Haley
Ryan Newman