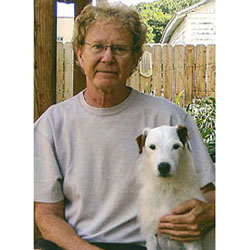 The Waynesboro arts community is in mourning today over the sudden passing of artist, dramatist, author and retired Waynesboro High School teacher Duane Hahn.
"Duane … how can we imagine creative Waynesboro without you? I'm heartbroken," wrote author and friend Elizabeth Massie on a Facebook post Thursday morning.
Hahn was an icon to the local cultural community. He taught in the Waynesboro school system for 33 years, and in 2000 was named the Virginia Secondary Communication Teacher of the Year. Former Waynesboro mayor Tom Reynolds noted on Facebook today that Hahn had taught all three of his children. Former vice mayor Nancy Dowdy said on Facebook that Hahn had taught her and her husband, Steve.
"Waynesboro will be less without him, but heaven is smiling. R.I.P. Mr Hahn!" Dowdy wrote.
A native of Waynesboro, Hahn earned a bachelor's degree in education at Morehead State University. For several years Hahn developed and directed children's theater for elementary schools in Waynesboro, and after his retirement from teaching continued work in children's theater with the development of a series of plays focusing on social issues affecting children today.
His most recent children's theater project, The Queen's Fairy Quest, commissioned for The Lost Colony Waterside Theater, opened in June 2010.
Hahn was a long-time member of the Waynesboro Players community-theater group – joining the Players in 1976 and acting, directing and producing a number of productions, including Shenandoah Moon, a fictional account of the forced migration of natives of the hollars of the Blue Ridge with the development of the Shenandoah National Park in the 1930s, and Tuesday Mourning, the story of the Bedford Boys who lost their lives in the D-Day invasion on June 6, 1944.
Hahn was the primary author on Shenandoah Moon, which he also published as a book with Augusta Free Press Publishing, and on Tuesday Mourning, which is set for a revival production with the Waynesboro Players in June.
An accomplished ceramic artist, Hahn was also a member of the Artisans Center of Virginia and had recently had works on display in an ACV exhibition in Waynesboro.
"He was the kind of person who always had something going on," said Crystal Graham, who had known Hahn since their days together on the board of directors of the Wayne Theatre Alliance and had worked closely with Hahn on the Shenandoah Moon book project – and had recently been in contact with Hahn about another project that he had in the works for the coming weeks.
"The Shenandoah Moon will be so much dimmer tonight," wrote Massie, who collaborated with Hahn on the Shenandoah Moon project, on Facebook. "I truly believe you are with God now, safe and loved. Paint the heavens for us, sweetie. We'll see you later."
Tribute
Books/Plays
Art
Video
Tall Tale Tellers: A children's theater production by Duane Hahn that takes us backstage at a Wild West show where Annie Oakley, Paul Bunyan, Calamity Jane and others try to outdo one another with stories of their most famous exploits.
From the AFP Archives