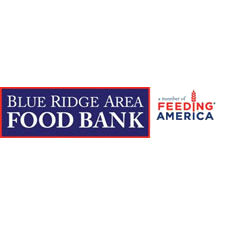 The Blue Ridge Area Food Bank will join Feeding America® and its nationwide network of food banks to  observe Hunger Action MonthTM this September.
The initiative is designed to mobilize the public to take action on the issue of hunger. As part of the month's activities, the Food Bank will hold its annual, large-scale food drive known as "Stuff A Truck" on Friday, September 18, at Martins grocery stores in Waynesboro, Staunton and Harrisonburg; and Giant grocery store in Charlottesville. The events will run from 7a.m. to 7 p.m.
"One in 10 adults and 1 in 6 children in the Blue Ridge struggle with hunger," said Michael McKee, CEO of the Blue Ridge Area Food Bank. "In fact, hunger is the surprise issue of the economic recovery. Despite more individuals being back at work, we're serving more clients in The Blue Ridge area than ever — an average of 118,600 individuals per month."
The Food Bank hopes to raise awareness of the problem during Hunger Action Month, and persuade more people to give to and volunteer with local programs.
Participants can take to Facebook and Twitter to share the ways they wear or display orange, the color of hunger awareness. Participants can also join the new "Spoontember" online initiative by sharing spoon selfies (a photo of them wearing a spoon on their nose). Don't forget to tag us @BRAFB and use the hashtags #HungerAction, #GoOrange and #Spoontember.
There are many opportunities for community members to get involved in Hunger Action Month, including:
9/1/2015

Elected Officials Volunteer Day at the Food Bank's Charlottesville branch and Valley headquarters

9/1/2015

Visit the UPS Store in Harrisonburg (across from JMU and next to Starbucks), where every package mailed will equal a food donation.

9/3/2015

National Go Orange Day

9/4/2015

Visit Fridays After Five's Fridays For Food and make a donation to the Food Bank.

9/16/2015

United Way Day of Caring service projects performed by Charlottesville organizations will benefit the Food Bank.

9/16/2015

Shop during 10/10 Day at Vineyard Vines in Charlottesville to get 10 percent off your purchase. Vineyard Vines will also share 10 percent of their proceeds with the Food Bank.

9/18/2015

Help us Stuff A Truck in Charlottesville or the Shenandoah Valley (see above).

9/21/2015

Dine at Travinia Restaurant in Charlottesville for their 10% off Day.

9/25/2015

Attend the Misty Mountain Music Festival in Greenwood and help raise funds for the Food Bank.
The Blue Ridge Area Food Bank is one of 200 member Feeding America food banks, which serves every county in the United States and provides over 3 billion meals each year to Americans in need.
To learn more about Feeding America's Hunger Action Month and Spoontember, please visitwww.hungeractionmonth.org. For information about Hunger Action Month activities in your area, please call Abena Foreman-Trice at 540-213-8405 or Maria Longley at 540-213-8425.