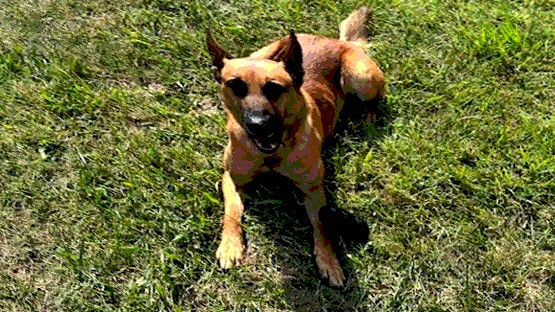 Augusta County Sheriff Donald Smith, facing criticism from a local blog report on the controversy over the pending retirement of his office's K9 patrol dog, Rico, went with the Friday a few minutes before 5 p.m. press release defense that almost never works.
"My hope is that everyone realizes that Rico will be retired very soon, will be cared for in the meantime, but the legal process must be completed prior to his retirement," Smith said in a press release sent out by his office on Friday.
The release is an attempt by Smith to counter the narrative from a Thursday report on the Breaking Through News blog that described Rico as being "caged in limbo" even as the effort launched by Blue Ridge Canine Services, a local rescue group, who had asked for the opportunity to raise funds for a new K9 for the sheriff's office that would allow Rico to officially retire, met its $19,000 fundraising goal this week.
To that part of the story, involving the fundraising campaign, Smith said in the release that the office and Mission K9 Rescue, a Houston-based nonprofit that is assisting in the fundraising effort, need to complete liability release paperwork and retirement forms prior to Rico's retirement to transfer the dog out of the sheriff's office's care, and that it is expected that the paperwork should be cleared up for a transfer by Aug. 15.
So, good news there.
Next, to the "caged in limbo" matter, Smith said in the release that "lots of untrue and misleading information about Rico's care and condition have been circulating in the community and via social media over the past few weeks."
"I can assure our Augusta County community that Rico is happy and well taken care of by his ACSO family," Smith said. "Rico is not currently living in a small crate, nor is he confined, alone or forgotten. ACSO staff have collectively fed, exercised, played and taken him out on breaks since he has been here at the sheriff's office. Rico has his own vehicle, and many days he has spent time out riding the roads with deputies. To be clear, he was not working, but simply riding to keep his routine normal. Furthermore, he is in the exact same kennel that he lived in at the previous handler's home; the only difference now is that he is inside the sheriff's office in the air conditioning versus being outside in the heat."
Smith then addressed another part of the story that has been making the rounds this week, involving a letter that he sent to Rico's former handler, Dennis Reynolds, a sheriff's deputy who left his job with the sheriff's office last month.
In to the letter, dated Aug. 9, Smith informed Reynolds that he would be on the hook for $3,245 for the cost of a carport that was installed at Reynolds' private residence in 2018, and that if Reynolds didn't want to pay for the carport, it would be removed.
At first glance, this could come across as heavy-handed at the least, and that part of the issue was raised at this week's Board of Supervisors meeting by Scott Cline, a frequent critic of Smith.
Smith said in the release that Cline accused him of "intentionally raising the cost to retire Rico in an effort to stop the retirement," which isn't actually the case – what Cline said at the meeting was that it was his understanding that Reynolds was being asked "to raise another like $3,000 or $5,000, or the county's gonna come in and tear up the pad."
"Now, Donald's here, maybe he can address that. Give him five minutes. And maybe Donald can address that, because there's a rumor," Cline went on, before he was interrupted by Michael Shull, the chair of the Board of Supervisors, who told Cline to direct his comments at the meeting to the board, not to Smith.
In the release, Smith addressed what he termed is a "false narrative" that "Rico is being used to force former deputy Dennis Reynolds to pay for the carport."
"This is simply not true," Smith said.
We learned about the carport issue from Cline's comments at this week's BOS meeting, and followed up with questions for Smith in an email exchange on Thursday.
Our focus was on the practice of using taxpayer funds to install a carport at the private residence of one of his employees, which Smith defended in a reply to AFP as being standard practice.
The sheriff went on to note that the policy on that has since been updated.
"We now purchase storage sheds converted into K9 kennels so we can hook to them with a tow truck so they are easily moveable from place to place without any permanent assets being involved," the sheriff said.
We then tried to get Smith to tell us how much it would cost the county to remove the carport installed at Reynolds' residence, but he didn't share a dollar figure in response to our initial question or a follow-up.
There is no word on the status of the carport, but Smith did say that the sheriff's office "will not be destroying the carport if (Reynolds) chooses not to purchase it."
"It will be dismantled and moved elsewhere to be used by the county," Smith said.