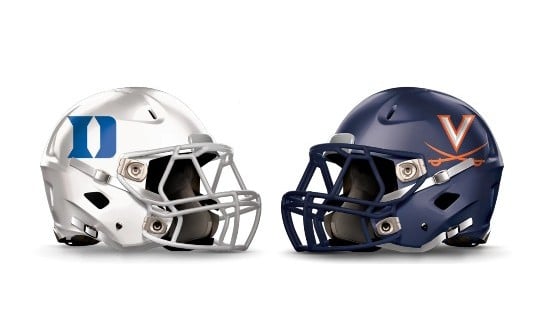 If Anthony Colandrea hasn't earned the starting QB job at Virginia at this point, something is wrong.
The true freshman passed for 278 yards and three touchdowns and added 66 yards on the ground in Virginia's 30-27 win over Duke on Saturday.
Wideout Malik Washington had his ninth 100+-yard day, with eight catches on 10 targets for 112 yards and two touchdowns for Virginia (3-8, 2-5 ACC), which hadn't won an ACC home game under second-year head coach Tony Elliott coming into Saturday.
The Cavaliers took control on their first two possessions coming out of the halftime locker room, going 65 yards on five plays, capped by a 29-yard TD pass from Colandrea to Malachi Fields to go up, 17-10, then making it 24-10 with a Colandrea-to-Washington 7-yard TD pass that culminated a six-play, 67-yard drive.
Duke (6-5, 3-4 ACC) would hang around, though – getting back to a single-score game on a 58-yard TD run by Jaquez Moore at the 9:03 mark of the fourth quarter that cut the UVA lead to 27-20.
The Virginia offense, on its next possession, executed a perfect fourth-quarter-with-a-lead drive, going 14 plays and eating 5:20 off the clock ahead of a 30-yard Will Bettridge field goal that made it 30-20 with 3:43 left.
Duke had to burn its three timeouts to save clock on that drive, which would be crucial later.
The Blue Devils went 75 yards on 14 plays to get a 2-yard TD pass from Grayson Loftis to Mekhi Wall to get the score to 30-27 with 1:13 left, but because of the lack of timeouts, Duke would have to recover an onside kick to keep the game alive.
Virginia defensive back Tayvonn Kyle recovered the kick, and Virginia was able to run out the clock.
Up next for Virginia: rival Virginia Tech (5-6, 4-3 ACC), which needs a win in the finale next Saturday to qualify for a 2023 bowl game.
Tech lost its home finale to NC State and former UVA starting QB Brennan Armstrong, 35-28, on Saturday.
Armstrong passed for 203 yards and two touchdowns, and had 89 yards and two more TDs on the ground in the win for State (8-3, 5-2 ACC).
The UVA-Tech game will kick at 3:30 p.m. and be broadcast on the ACC Network.