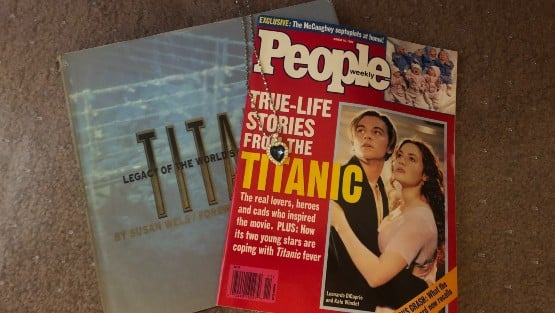 Among my many interests in life has always been the tragedy on the night of April 14, 1912.
I've studied the who, how, what and, most importantly, why. Why did the Titanic, the largest ocean vessel of its day nicknamed "unsinkable," end up at the bottom of the Atlantic Ocean?
The people who were on board, where they had come from and where they were going, have fascinated me. Is it any surprise I became a journalist as an adult?
One theory about Titanic I always found amazing, but many do not discuss, is that two ancient Egyptian sarcophagi were reportedly on the ship. Going along with the curses of mummies, I have read some believe the ship sunk because the sarcophagi were removed from their resting places and placed on Titanic.
Thousands of lives brought together for a few days and nights, but 1,500 ended on April 14 when Titanic struck an iceberg and began to sink into the ocean.
I saw James Cameron's 1997 film "Titanic" three times in the movie theater. I was 19 years old and "Rose" was 17. My imagination wondered, if I had been on the ship, would we have been friends?
Would I have been a first-class or third-class passenger? As a descendant of Italian and Irish immigrants, probably third class.
The music, the laughter, the difficult decision in "Rose's" life, the dishes falling to the floor as Titanic dipped further into the ocean.
"It's been 84 years."
"That's OK. Just try to remember anything, anything at all."
"Rose's" secret at the end. She had kept the Heart of the Ocean necklace although it was the only item of value she possessed after almost losing her life the night of the sinking.
I was thrilled to hear Titanic mentioned in the media again a few weeks ago. So often the tragedies of history get their 15 minutes, then we move on. As I wrote about the Titan submersible, I thought for sure they would be found. How could the mother ship lose contact? It couldn't. They were having technical difficulty and would be found.
Now the Titanic has claimed five more lives, 111 years after it sank.
However, exploration and scientific discovery require risks and taking chances. I doubt OceanGate Expeditions Founder and CEO Stockton Rush or French explorer and Titanic expert Paul-Henri Nargeolet would tell us to stop searching, stop exploring because they lost their lives in the Titan on June 18.
Now that this has happened, I'm surprised we haven't heard of more accidents related to exploration of Titanic's wreckage. But, without such research and exploration, we wouldn't know what we know now of the "ship of dreams."
If you'll excuse me, I have more research and reading to do about the Titanic. I'm sure I don't know all there is to know yet.