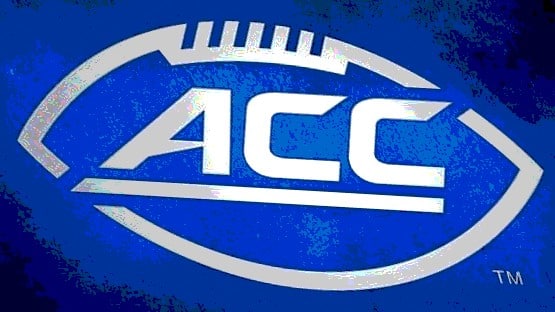 FSU, with a bye, continues to occupy the top spot in the latest ACC Power Rankings, while Louisville holds the best ACC record after a comeback win over NC State on Friday night.
The Cardinals' fifth straight win earned an AP ranking. Week 6 holds the program's biggest test, a home meeting with No. 11 Notre Dame.
Looking back to this past weekend, with several teams having byes, the big game pickings were slim. The marquee matchup came in Durham, where Notre Dame used a late score to defeat Duke, 21-14.
Aside from Duke's late loss, the conference took a hit when Georgia Tech lost at home to MAC foe Bowling Green.
Some bright spots: Virginia Tech picked up its first conference win, beating Pitt, 38-21; Clemson looked like Clemson with a convincing win over Syracuse.
This weekend, many of the ACC contenders are back on the gridiron.
FSU hosts Virgina Tech, UNC hosts Syracuse, while Miami is at home against Georgia Tech.
Here's this week look around the ACC
FSU (4-0, 2-0 ACC) The Seminoles had a bye this past weekend and will be heavy favorites at home against Virginia Tech on Saturday.
UNC (4-0, 1-0 ACC) The Tar Heels also enjoyed an off Saturday and will welcome Syracuse to Keenan Stadium this weekend.
Louisville (5-0, 3-0 ACC) The Cardinals made the jump from No. 5 to No. 3 this week on the back of an impressive win over NC State. The Louisville defense suffocated the Wolfpack offense in the 13-10 win. The Cardinals limited State to a mere 201 total yards.
Duke (4-1, 1-0 ACC) The Blue Devils suffered a tough loss to Notre Dame, 21-14, on Saturday. No. 11 ND produced a 30-yard touchdown run by Audric Estime with 31 seconds left, capping off a 95-yard drive by the Irish.
Miami (4-0, 0-0 ACC) Miami had a bye week and is now the lone ACC team to not have played a conference game. The Hurricanes host Georgia Tech next.
Clemson (3-2, 1-2 ACC) The Tigers got a much-needed win over Syracuse on Saturday, 31-14. Tigers QB Cade Klubniktossed two touchdown passes, and Clemson's defense finally made a statement, sacking Syracuse QB Garrett Shrader five times.
Syracuse (4-1, 0-1 ACC) The Orange may have seen what Clemson football fans have been waiting for all season, a productive offense, and lockdown defense, losing to the Tigers, 31-14, in Death Valley
Wake Forest (3-1, 0-1 ACC) The Demon Deacons also had the weekend off. Wake will travel to Clemson next and must improve on limiting miscues.
Boston College (2-3, 1-2 ACC) While it may not go down as a monumental win, beating hapless Virginia, give the Eagles full credit for halftime adjustment. Down 21-7 at the break, BC rallied for 20 second-half points to beat winless UVA, 27-24. The game-winner was a Liam Connor 42-yard field goal with 2:11 remaining.
Virginia Tech (2-3, 1-0 ACC) The Hokies broke a three-game losing skid, beating Pitt, 38-21, in Lane Stadium on Saturday. The win was especially satisfying for Tech as the Panthers had dominated the Hokies the last three seasons.
Georgia Tech (2-3, 1-1 ACC) After an impressive win over Wake Forest, the Yellow Jackets followed things up with a clunker against Bowling Green. After taking a 14-0 lead, Tech saw Bowling Green rally for the upset win. It was the Falcons' first win over an active member of the ACC.
NC State (3-2, 1-1 ACC) The Wolfpack made the biggest move in this week's power rankings. Unfortunately, it went in the wrong direction, falling from No. 8 to No. 12. Offensive miscues and wasted possessions were the story for Pack's loss to Louisville. For the game NC State totaled just 201 offensive yards.
Pitt (1-4, 0-2 ACC) Speaking of tumbling, watch out for the Panthers. Pitt was clobbered by Virginia Tech, 38-21. The Panthers have now lost four straight.
Virginia (0-5, 0-2 ACC) UVA,near the bottom of the ACC Power Rankings all season, completed the drop Saturday. Leading 21-7 at intermission, the Cavaliers again were not able to counter its opponent locker room adjustments and were outscored 20-3 by Boston College in the second half, falling 27-24.