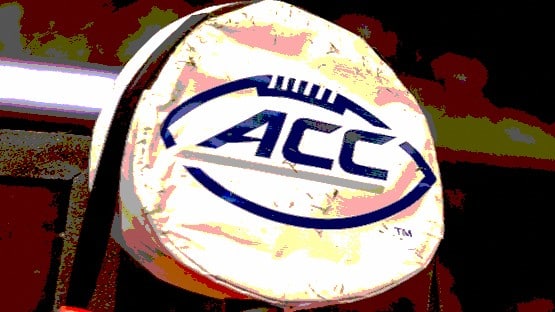 Week 5 play around the ACC is in the books, and Florida State remains the conference kingpin.
The Seminoles, at the top since preseason, made a statement with an overtime win on the road at Clemson, winning 31-24. It was the first win in Death Valley for FSU since 2014.
A huge win for Seminoles and a devastating loss for Clemson, who fell to 0-2 in ACC action and 2-2 overall. The boo-birds were out in unison for Tiger head coach Dabo Swinney after the game.
At the opposite end of the ACC football spectrum are the two teams from the Old Dominion. Both Virginia and Virgina Tech lost again on Saturday.
The Cavaliers shot themselves in the foot not once, not twice, but three times in the game's final minute with unsportsmanlike conduct penalties that practically handed NC State a 24-21 win.
The Hokies, a surprising near-touchdown underdog to Marshall, lived up to Vegas expectations, falling to the Thundering Herd 24-17. The Tech offense continues to be a disaster.
Meanwhile, don't look now, but football is beginning to get noticed along Tobacco Road. Both UNC and Duke remain undefeated at 4-0.
ESPN "Gameday" sets up shop at Duke on Saturday for the first time in school history as Notre Dame comes to Wallace Wade Stadium. Since beating Clemson to begin the year, the Blue Devils have had a favorable schedule that corrects itself Saturday.
Here's this week's lowdown on the state of football in the ACC.
FSU (4-0, 2-0 ACC) The Seminoles had their backs to the wall several times Saturday, but found a way to get it done on the road against Clemson. The FSU offense was clicking when it mattered, and the defense was solid, again, when it mattered. Bottom line: the Seminoles have won both of their huge tests this season and appear poised to be in the CFB playoff mix.
UNC (4-0, 1-0 ACC) The Tar Heels took care of business on Saturday with a win over Pitt, 41-24. QB Drake Maye once again posted solid numbers, throwing for just under 300 yards.
Duke (4-0, 1-0 ACC) As expected, Duke had little problems with UConn, winning 41-7. Mike Elko's star shines brighter every week. Duke football is on the big stage Saturday, hosting Notre Dame as "Gameday" will be on campus.
Miami (4-0, 0-0 ACC)The preseason concluded for the Hurricanes with an easy win over Temple in Philadelphia, 41-7. Miami heads into their bye week undefeated, with a showdown against UNC looming.
Louisville (4-0, 2-0 ACC) Louisville had its best overall game of the season with a 56-28 blowout of Boston College. QB Jack Plummer had a great day, throwing for 388 yards and five touchdowns.
Clemson (2-2, 0-2 ACC) Clemson played FSU tough, but failed to close out the game when opportunity came knocking. Turnovers continue to plague the Tigers, whose playoff hopes are officially done.
Syracuse (4-0, 0-0 ACC) For a while Syracuse appeared to be in trouble with Army, but the Orange offense began clicking in the second half, winning 29-16 in West Point. After four cupcakes in non-conference games, Syracuse begins their ACC schedule at Clemson next.
NC State (3-1, 1-0 ACC) The Wolfpack looked anything but impressive in their 24-21 win over UVA. The offense continued to look pedestrian, just unable to establish any rhythm against the Virginia defense. NC State is 3-1 overall, but that may be fool's gold. Up next for the Wolfpack is undefeated Louisville.
Wake Forest (3-1, 0-1 ACC) The Demon Deacons suffered an unexpected lost at home to Georgia Tech Saturday. The principal culprit: turnovers. GT forced five WF miscues and sacked Wake QB Mitch Griffis eight times. Ouch.
Georgia Tech (2-2, 1-1 ACC) If the Georgia Tech defense builds upon Saturday's lockdown against Wake Forest, then the Yellow Jackets may be a player in the ACC this season. Eight sacks, five turnovers against what is normally a solid WF team coached by Dave Clawson.
Pitt (1-3, 0-1 ACC) At #11 this is where the ACC begins to get ugly. The Panthers offense just cannot get on track. QB play is the problem, regardless of who is under center for Pitt.
Boston College (1-3, 0-2 ACC) The BC defense was abysmal against Louisville. Jeff Haley's team is now 1-3 and will have few remaining chances for a victory. One happensthis week as the Eagles host Virginia.
Virginia (0-4, 0-1 ACC) UVA battled back to tie NC State 21-all Saturday and appeared to have all the momentum. But costly and unexplainable unsportsmanlike penalties (three) gave the Wolfpack two opportunities for a game-winning FG.
Virginia Tech (1-3, 0-0 ACC)Things just continue to implode for the Hokies. While the VT offense is a mess, it's the Hokies defense that is just bad getting attention. Tech opens ACC play hosting Pitt Saturday