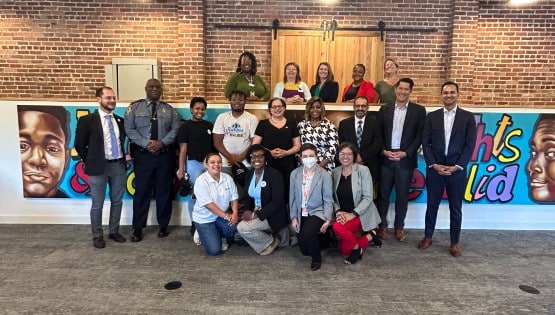 Congresswoman Jennifer McClellan of Virginia hosted a roundtable in Richmond on Friday to discuss firearm violence and its impact on Virginia's youth.
McClellan is a member of the Gun Violence Prevention Task Force in Congress, a cosponsor of H.R. 1699, a resolution to designate June as "National Gun Violence Awareness Month." She is also a cosponsor of a resolution to declare gun violence a public health epidemic in the United States.
She was joined by gun violence advocacy organizations, attorneys, law enforcement, young adults and other stakeholders from Henrico County and the City of Richmond.
"The gun violence epidemic is a uniquely American issue, and it is imperative that we take action. Firearms are now the leading cause of death for children and teens in the United States. As the mother to two young children, I am reminded of this every day, and it fuels my commitment to find effective solutions to prevent firearm violence and ensure the health and well-being of our children," McClellan said. "I am grateful for all the passionate individuals and organizations who joined us today to confront this complex and pressing issue. Their insights and commitment will help us make meaningful progress in our efforts to address firearm violence. I will continue fighting in Congress to pass common sense solutions to protect our communities and save lives."
Giffords State Advisor Don Mark said everyone has seen the effects of gun violence in their communities, and the situation has worsened since the COVID-19 pandemic.
"In addition to keeping guns out of the hands of those who seek to only do harm, we must continue and expand our investment in life saving Community Violence Intervention and Prevention programs. CVI programs have demonstrated success at interrupting entrenched cycles of violence, victimization, and retaliation, using a public health approach," Mark said.
The Virginia Community Violence Coalition works to break the cycle of violence and build a foundation for a safer Virginia.
"Brady is committed to promoting community-based solutions that prioritize racial equity and supply-side approaches. We know that by empowering individuals to initiate the changes they want to see, we can create a safer and healthier future for all. We are proud to partner with the City of Richmond and the VA CV Coalition in their work to reshape Virginia's communities for generations to come." Combating Crime Guns Initiative, Brady United, Director Rachelle Hunley said.
Youth Leader RISE for Youth Shiloh T. said the first step is to interact with youth on their terms.
"Words are powerful but actions are more powerful, and I am ready to see my community grow," Shiloh T. said.
Kevin C. of RISE for Youth said gun violence in Richmond is out of control.
"It's sad that we are seeing people die over petty nonsense, it's an epidemic that we are seeing all over the country, even on our college campuses. It's just too easy for people to acquire guns, legally and illegally," he said.
Ayanna S., also of RISE for Youth said "gun violence is mostly caused by revenge and past trauma. It's time to help communities heal."
"Youth gun violence continues to traumatize and retraumatize our communities. We must take a multi-pronged approach to solve this issue focused on increasing socioeconomic opportunity, ensuring access to youth mental health services, and limiting the availability of illegal firearms," C. Alexander Guzmán, Childsavers Public Policy Officer, said.
Henrico County Chief of Police Eric English said what is necessary is "a multi-layered approach to mitigate the rise in youth gun violence. Everyone plays a role in addressing this crisis."
"As the director of a trauma center, I witness the harrowing consequences of youth gun violence on a daily basis. It's a heart-wrenching reality that no community should endure. We extend our deepest appreciation to Congresswoman McClellan for her steadfast commitment to shedding light on this critical issue," Dr. Michel Aboutanos, medical director of the Level 1 Trauma Center at VCU Medical Center, said. "We are also profoundly grateful for our community partners who stand alongside us in this fight. Together, we can forge a path towards safer neighborhoods and brighter futures for our youth."
The City or Richmond's Office of the Commonwealth's Attorney prosecuted more than 400 cases of youth with weapons in 2022.
"We need commonsense gun laws that keep guns out of the hands of children, so that they cannot use them to hurt themselves and others," Colette Wallace McEachin said.