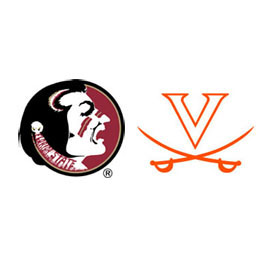 The No. 1-ranked UVa. baseball team lost 7-0 at No. 4 Florida State Saturday evening in front of 5,572 fans at Dick Howser Stadium. FSU (33-10, 17-6 ACC) snapped a six-game losing streak to Virginia (36-8, 17-6) while evening the series at a game apiece.
The rubber game of the series is set for 1 p.m. Sunday. ESPN3 will air the video broadcast Sunday, while a live audio broadcast will be available through a Cavaliers Live subscription on VirginiaSports.com. wina 1070-AM and WINA.com will carry the radio broadcast.
Virginia had not been shut out in its previous 156 games. The Cavaliers last were blanked on Feb. 28, 2012, against Liberty.
John La Prise (So., Exton, Pa.), Joe McCarthy (So., Scranton, Pa.) and Daniel Pinero (Fr., Toronto, Ontario) each had a pair of hits for UVa, which finished with nine hits. FSU also had nine hits, while John Sansone drove in four runs.
Virginia starting pitcher Josh Sborz (So., McLean, Va.) worked four-plus innings, giving up four earned runs, five hits and three walks. Sborz (4-3) also struck out four while taking the loss.
Florida State starting pitcher Mike Compton (4-1) tossed 6 1/3 shutout innings, giving up seven hits and a walk while striking out one. Billy Strode worked the final 2 2/3 innings to complete the shutout.
Florida State (33-10, 17-6) opened the scoring in the fourth inning. With one out John Nogowski drew a walk. Jose Brizuela doubled to right-center field to move Nogowski to third, and Sansone followed with a two-run single to left field.
The Seminoles opened some breathing run with a four-run fifth inning. Danny De La Calle drew a leadoff walk and Josh Delph walked, spelling the end of the night for Sborz. Jones entered and struck out Casey Smit on three pitches before DJ Stewart hit a high chopper that Pinero could not corral at shortstop. The single allowed De La Calle to score, with the runners advancing to second and third. After UVa intentionally walked Nogowski, Brizuela bounced a double down the right-field line to score a pair. Sansone followed with a sacrifice fly to push the Seminoles' lead to 6-0.
FSU tacked on a run in the seventh on Sansone's second sac fly.