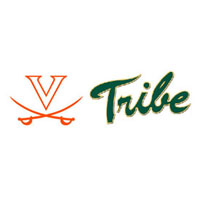 The top-ranked UVa. baseball team dispensed of William & Mary, 11-2, Wednesday evening at Davenport Field. Virginia (31-6) scored in all but one inning while limiting the nation's No. 1 scoring offense to a season-low four hits.
Virginia starting pitcher Artie Lewicki (Sr., Wyckoff, N.J.) worked five innings of one-hit, shutout baseball to earn the win. Lewicki (3-0) walked two and struck out a career-high eight batters. William & Mary (22-14) entered the game averaging an NCAA-best 9.5 runs per game while boasting a .335 team batting average, which is second nationally.
William & Mary starter Daniel Powers (0-2) gave up five earned runs, five hits and a walk in two-plus innings of work in taking the loss.
Matt Thaiss (Fr., Jackson, N.J.) went 3-for-3 with a pair of RBI to highlight Virginia's 14-hit night. Branden Cogswell (Jr., Ballston Lake, N.Y.) added a pair of hits and also scored twice. Daniel Pinero (Fr., Toronto, Ontario) singled, walked three times and also had a sacrifice bunt; he has reached base safely in his last 10 official plate appearances dating to Saturday.
Virginia manufactured a first-inning run as Cogswell doubled on the first pitch, moved to third on a Pinero sacrifice and scored on a Mike Papi (Jr., Tunkhannock, Pa.) sac fly to right.
The Cavaliers executed again in scoring a run in the second inning. Nate Irving (Jr., Yonkers, N.Y.) reached on a two-out infield single. He advanced to second on a good read of a ball in the dirt, then scored when Thaiss slapped a single the opposite way through the left side of the infield.
Virginia opened up a 7-0 lead by scoring five runs and sending 10 batters to the plate in the third inning. With the bases loaded and none out, Joe McCarthy (So., Scranton, Pa.) hit a sinking line drive to center field that dropped for a single, and when the ball skipped past center fielder Derek Lowe and rolled all the way to the warning track, all four runners came around to score easily on the three-base error. UVa added a run with two outs when Kenny Towns (Jr., Burke, Va.) hit an infield single to score John La Prise (So., Exton, Pa.).
The Cavaliers plated a run in the fourth inning when Pinero scored on a wild pitch. UVa then scored again in the fifth on a Thaiss double to bring home La Prise.
William & Mary broke up the shutout on run-scoring doubles from RBI machine Michael Katz in the sixth and seventh innings; he now has an NCAA-best 64 RBI this year.
Virginia scored a run in the seventh on a Pinero RBI single, then tacked on a final run in the eighth on a Thomas Woodruff (Jr., Clifton, Va.) single to plate Robert Bennie (So., Stroudsburg, Pa.).
Virginia remains home Friday through Sunday for a three-game ACC series with North Carolina. The teams play at 6 p.m. Friday and 1 p.m. Saturday and Sunday.