McAuliffe cuts ribbon for new state veterans office inside the Pentagon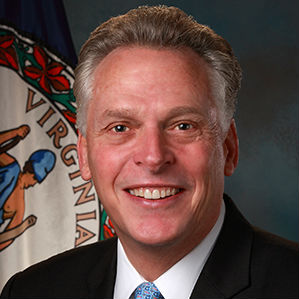 Governor Terry McAuliffe cut the ribbon for the new Virginia Department of Veterans Services (VDVS) office at The Pentagon in Arlington on Tuesday.  This new office will serve the thousands of veterans and transitioning servicemen and women and their families who work in the headquarters of the US Department of Defense. The new VDVS Pentagon location marks the 30th office location in the state.
"Making Virginia the most veteran-friendly state in the nation has been one of the most important accomplishments of this administration, and today's announcement builds on that important work," said Governor McAuliffe. "Virginia is home to the fourth largest military and veteran population in the nation and many of these men and women work every day in the Pentagon. Now, these military service members and veterans will have easy access to a VDVS office to assist them in receiving the federal and state benefits they have earned serving our country.
"Additionally, I am pleased to announce another momentous goal for our veterans has been reached – over 30,000 veterans have been hired through our Virginia Values Veterans (V3) program since its inception five years ago. These veterans are now part of our civilian workforce and making great contributions to our state economy."
Governor McAuliffe was joined at the ribbon cutting ceremony by Ms. Stephanie Barna, Acting Secretary of Defense for Manpower and Reserve Affairs; the Honorable Robert Wilkie, Under Secretary of Defense for Personnel and Readiness; Virginia Secretary of Veterans and Defense Affairs Carlos Hopkins; John L. Newby II, Commissioner, Virginia Department of Veterans Services; Thomas Herthel, VDVS Benefits Director; and other representatives of the US Department of Defense and state government.
"When he took office, Governor McAuliffe set some major goals to ensure that Virginia is the most veteran friendly state in America," said Secretary of Veterans and Defense Affairs Carlos Hopkins. "It is a privilege to have been part of the team that has achieved these goals – from opening more VDVS offices like this one in the Pentagon to the hiring of more than 30,000 veterans through our V3 program."
"Opening this new office here inside The Pentagon is another concrete example of Virginia's commitment to serving our veterans and their families in the Northern Virginia region and throughout the state to make it easier for them to successfully transition from the military to being a veteran," said VDVS Commissioner John L. Newby II. "The Governor's announcement of over 30,000 veterans hired through our V3 program is an example of how we are successfully finding employment in Virginia for our veterans as they enter civilian life."
"Those visiting the new Pentagon office can meet one-on-one with our highly-trained and accredited Veterans Services Representatives who stand ready to help them identify and apply for the benefits they have rightfully earned," noted Thomas J. Herthel, VDVS Benefits Director.
About VDVS
The Virginia Department of Veterans Services (VDVS) operates 30 benefit offices that assist military veterans and their families in filing claims for federal veterans benefits; two long-term care facilities offering in-patient skilled nursing care, Alzheimer's/memory care and short-term rehabilitative care for veterans; and three cemeteries that provide an honored final resting place for veterans and their families. VDVS provides veterans and family members with direct linkages to services including behavioral healthcare, housing, employment, education and other programs. The Department also operates the Virginia War Memorial, the Commonwealth's monument to honor the memory and sacrifice of Virginia's men and women who served and fought to defend our way of life from World War II to the present. For more information, please visit www.dvs.virginia.gov.