Lynchburg Hillcats winning streak ends on rainy night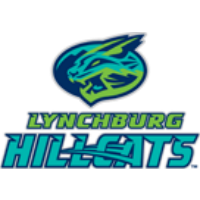 Amidst the rain, the Lynchburg Hillcats fell to the Frederick Keys, 3-1, in the first game of a double-header on Thursday at City Stadium.
The Hillcats (20-18) saw their season-high six-game winning streak come to an end with the loss to the Keys (16-23).
The second game of the twin bill, which was scheduled due to yesterday's wash out, was postponed due to rain. No makeup date has been announced at this time, as the Keys do not travel to Lynchburg again in the first half of the season.
Frederick opened the scoring in the first inning. Ryan McKenna led off the game with a single, and later came around to score on a Wilson Garcia RBI single. Jomar Reyes followed with an RBI double, scoring Garcia to give the Keys a 2-0 edge.
The lead became 3-0 in the third. Preston Palmeiro singled with one out, and advanced to third on a single from Garcia. Palmeiro came around to score after Sam Hentges (Loss, 3-2) uncorked a wild pitch.
Lynchburg got a run back in the fourth. Gavin Collins doubled with one out, and Trenton Brooks hit an RBI single to score him, making it a 3-1 game.
The Hillcats threatened in the bottom of the seventh, putting the tying runs on base. Emmanuel Tapia doubled and Dillon Persinger singled to put runners on the corners with one out. However, Branden Kline (Save, 1) struck out Mitch Longo and Luke Wakamatsu to end the game.
Hentges worked 4.2 innings and allowed three earned runs on six hits. He walked three and struck out four. Luis Jimenez pitched 2.1 scoreless frames out of Lynchburg's bullpen.
Keys starter Alex Wells (Win, 1-3) allowed just one earned run on five hits in five innings, striking out six. Kline pitched two innings and struck out three for the save.
Lynchburg's homestand continues on Friday, with the opener of a three-game series against the Potomac Nationals. Right-hander Zach Plesac (2-2, 4.95) will start for the Hillcats against P-Nats LHP Matthew Crownover (1-3, 4.21). First pitch is scheduled for 6:30 p.m. at City Stadium.
Friday will be Paint the Park Purple Night, featuring a T-shirt giveaway to the first 1,000 fans.
Max Gun and Matt Present will be on the air at 6:20 p.m. with the Hillcats pre-game show on TuneIn Radio and the Radio434 App.
For tickets or more information, visit lynchburg-hillcats.com, call 434-528-1144. or stop by the City Stadium box office.
Comments