Keys romp past Salem Red Sox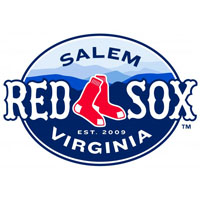 The Frederick Keys scored five runs in the first inning against the Salem Red Sox and never looked back, winning 7-0 on Sunday afternoon at Nymeo Field.
Frederick jumped all over Matt Kent in the first inning with the first five hitters recording hits to leap out to a 3-0 lead. The Keys added two more runs later in the frame on an RBI single from Steve Wilkerson and a run-scoring fielder's choice off the bat of Josh Hart.
From there, though, Kent (8-5) regained the form from his previous start, limiting the Frederick offense to one hit over the next four innings. Kent retired 13 straight batters at one point from the first through fifth innings and set down 14 of the final 15 hitters he faced. Overall, the southpaw gave up five runs on seven hits with three strikeouts in five innings.
Salem's offense could not get anything going against Frederick starter Lucas Long. David Sopilka provided the first hit against Long (6-5) with a leadoff single in the third, but that was one of just three hits for Salem on the day. Long struck out a career-high 11 batters in seven innings, yielding just two hits. Nick Longhi provided Salem's lone extra-base knock with a double leading off the seventh.
The Red Sox had one baserunner in seven of the nine innings, but never had multiple runners on in any frame. Salem also struck out a season-high 14 times at the dish.
German Taveras allowed a pair of runs in the last of the seventh inning, his second inning of work. Bobby Poyner struck out the side in a perfect eighth inning for the Red Sox.
Salem will continue its seven-game road swing with the opener of a three-game series on Monday night against the Potomac Nationals in Woodbridge, Va. Trey Ball (5-4, 3.89) climbs the hill for Salem against Potomac's Erick Fedde (5-3, 3.45). First pitch is scheduled for 7:05 pm. Follow along with all the action on the Salem Red Sox Baseball Network, with pre-game coverage beginning at 6:45 pm.