Human Rights Campaign endorses Justin Fairfax for lieutenant governor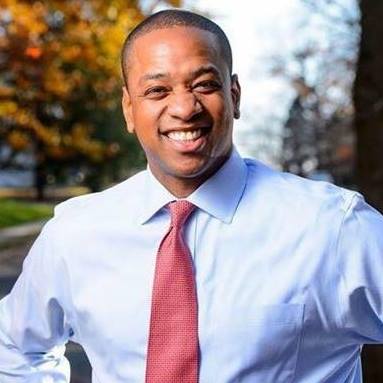 The Human Rights Campaign, the nation's largest LGBTQ civil rights organization, has endorsed Democratic candidate Justin Fairfax for lieutenant governor of Virginia. With an estimated 185,366 LGBTQ eligible voters and hundreds of thousands more allied voters in the commonwealth, HRC has also endorsed Ralph Northam for governor and Mark Herring for attorney general.
"Justin Fairfax is the clear choice for Virginia voters who believe in justice, fairness, and equality," said JoDee Winterhof, HRC Senior Vice President for Policy and Political Affairs. "Fairfaix is committed to LGBTQ equality, and we're proud to endorse him for lieutenant governor. With so much at stake in this election, it's crucial that fair-minded voters turn out on November 7 for pro-equality candidates Justin Fairfax, Ralph Northam, and Mark Herring."
Upon receiving this endorsement, Justin Fairfax made this statement:
"I'm proud to receive the endorsement of the Human Rights Campaign. They recognize that there is no question which candidate for Lt. Governor will be the stronger advocate for issues that matter to HRC's members. I look forward to working together with the Human Rights Campaign to fight for equality and opportunity for all Virginians. It is through equality and inclusion that we will continue to create a stronger Virginia economy and a stronger and more just Commonwealth.
Fairfax is committed to advancing equality for LGBTQ Virginians. The HRC Foundation designated Virginia as a "High Priority to Achieve Basic Equality" in the organization's 2016 State Equality Index. The commonwealth is one of thirty-one states that still lacks basic non-discrimination protections for LGBTQ people in employment, housing, and public accommodations.
Fairfax is also committed to reducing gun violence through commonsense gun safety legislation and protecting civil rights, workers, and the environment. He is a former Assistant U.S. Attorney for the Eastern District of Virginia and has served as Deputy Coordinator of the Northern Virginia Human Trafficking Task Force. If elected, he would become only the second African-American lieutenant governor in Virginia's history.
HRC recently announced a bold, proactive grassroots expansion with the launch of HRC Rising — a campaign to accelerate progress in states from coast-to-coast, resist the politics of hate, fight anti-LGBTQ legislation, and fuel pro-equality candidates and initiatives. The expansion is the biggest strategic investment in the organization's 37-year history.
Comments