Happy Birthday America to be streamed online, broadcast by PBS stations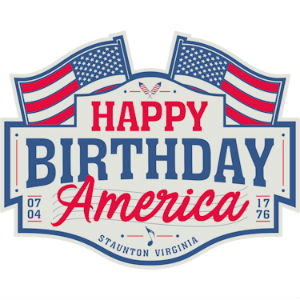 Happy Birthday America will be televised and live-streamed by PBS stations in Richmond, Charlottesville and the Shenandoah Valley.
"WVPT is thrilled to bring "Happy Birthday America" to our viewers, both online and on air," said Amy Roscher, WVPT production manager. "We will stream the concert live online on the night of July 4th. Then over the weekend, the concert will be aired on WVPT in Harrisonburg, WHTJ in Charlottesville and WCVE in Richmond. Days and times will be announced at a later date. This event is so meaningful to our communities, and WVPT is honored to be the presenting station."
Leadership with Happy Birthday is pleased to bring this event to a larger audience via television and online viewing. For the first time in more than 20 years, the annual event is returning to John Moxie Stadium where The Statler Brothers debuted the free community celebration 49 years ago.
"There are so many new elements to be excited about for this year's Happy Birthday America celebration: fresh ideas and planning from a new committee, going back to the ball field, a revitalized parade, a patriotic and inspiring Vesper service, an expanded area for food, concessions and games, and of course, the filming of the show which will reach more people," said Langdon Reid, Happy Birthday America director and member of Wilson Fairchild, headliner for the concert event. "The support from the community and all who are involved has been overwhelming!"
The enthusiasm is shared by Wil Reid, also a director of Happy Birthday America and member of Wilson Fairchild.
"We are so excited to be teaming up with public television for Happy Birthday America in Staunton on July 4th!" said Reid. "Our vision for restoring the event started in our home town years ago only got bigger and better when WVPT came on board."
Preliminary plans call for livestreaming the parade so it can be seen worldwide on numerous digital devices. The two-hour concert featuring Wilson Fairchild and special guests will also be livestreamed. The time and dates for the television broadcast will be announced later.
Comments