Pepe Coin (PEPE) had already been enduring a rough period so the bearish conditions setting in market-wide was always going to be bad news for the meme coin. After its amazing initial run things are not looking too great for the future of PEPE. It is falling further and further down the top 100 rankings and it could soon be a relic of the past.
On the other end of things is Wall Street Memes ($WSM), the new meme coin that is taking the market by storm. In a lot of ways, they are like two ships passing in the night. We believe that Wall Street Memes could replicate the success of Pepe Coin while it looks like Pepe Coin could be heading toward zero.
Before looking at what went wrong for PEPE let's take a look at the more positive Wall Street Memes story.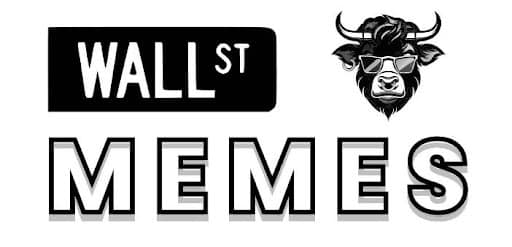 Wall Street Memes- Crypto Whale helps presale total clear $25 million
The Wall Street Memes ($WSM) presale has been one of the most successful in recent memory. Well over $25 million was raised and this was helped after a crypto whale dropped a total of $1 million on $WSM tokens. 
The Whale had already invested in the project but then at the beginning of August came back in with $840,000 worth of ETH to take the total spend by the one investor to $1 million. Many are questioning who this investor could be with some people even thinking it might be Elon Musk. We can't tell for sure but it's clear the hype is real.
That hype mostly comes from the Wall Street Memes online presence. They first came to light after the anti-bank movement on Reddit took on Wall Street by targeting hedge funds that shorted stock. The movement would make international news and even caused one major hedge fund to go bankrupt.
Wall Street Memes have kept that spirit alive and now wish to turn it into a profitable commodity. A meme coin feels like it is the perfect outlet because of how valuable vitality can be to the overall success of the project. Wall Street Memes has over 1 million followers across its social media platforms so this pre-built community is what has people thinking it will be a huge success.
The Twitter account is the place where most of the action happens. It is a page known by anyone in the crypto community that has an online presence due to the hilarious memes they post and the discussions that are borne from them. The account has over 260k followers and among them are some huge crypto profiles such as YouTuber Cameron Fous and NFT marketplace Magic Eden. 
While vitality will be key to its success, the project has also recently added utility just to really bolster its ecosystem. As we mentioned, Wall Street Memes are for the people and the allocation of coins proves that. 50% of the total amount is to be sold at presale, while 20% is dedicated to liquidity, and finally, 30% is for community rewards just showing that everything they do is for the investor.
It is this 30% where the utility comes in as the announcement was in regards to staking. Investors can already start staking even before listings begin in a month's time. Over 230 million $WSM tokens have been staked and at the moment the APY stands roughly around the very impressive mark of 85%. 
Considering the value we believe this token will have long-term staking seems like a no-brainer and of course adds security to the project as well.
So, there are clear and obvious reasons as to why traders have shifted to Wall Street Memes while the other major meme coins, like Pepe Coin, struggle in the doldrums. Let's take a closer look at Pepe Coin now and see if there is any hope for the future.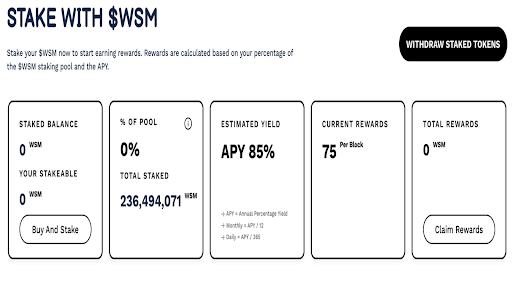 Pepe Coin price plummets as bearish conditions solidify
Above is the 7-day performance chart for Pepe Coin (PEPE). As you can see it makes for bad reading for investors. For those who wish to look at charts dating further back, it does not get much better. In truth, PEPE has been on its way to zero for quite some time now and the only real reason it is still discussed so much is because of its initial pump.
PEPE represented the crypto dream in many ways. It came from nowhere, pumped by thousands of percent, and made investors millionaires overnight. The lure of Pepe Coin is rooted in this. Its value disappeared nearly as quickly as it pumped, leaving so many investors with a feeling of FOMO. It is likely this reason why Pepe Coin is still at the forefront of everyone's mind as no one wants to miss out on it if it pumps again.
This, in our opinion, means you can never really write off the meme coin. It has such lore attached to it that we cannot say for certain it won't pump again, all it needs is one proverbial match and it could turn into a powder keg again. While conditions are bearish now it remains a stay away but in the future, it could represent a good buy-low option to hold on to. Simply because you never know.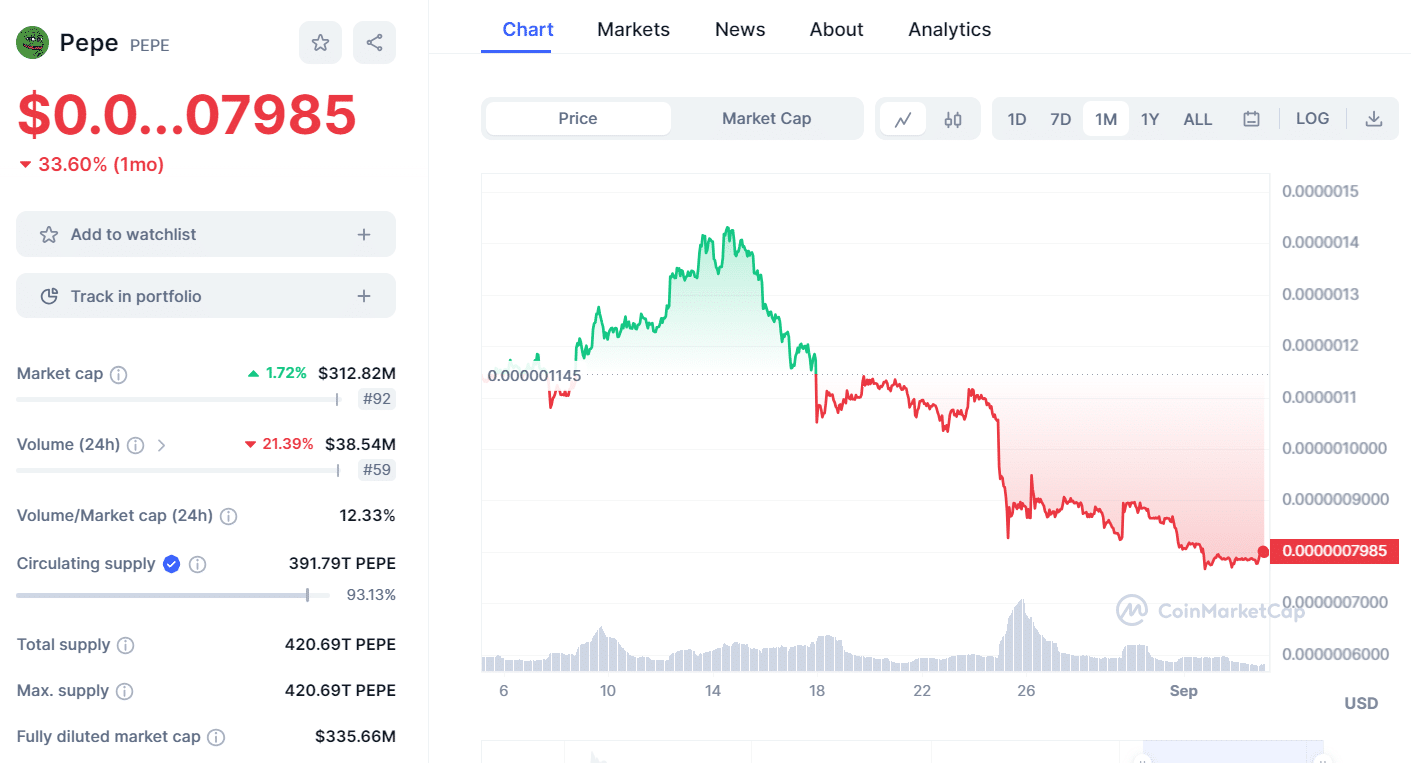 Conclusion
So although we ended on a positive note with Pepe Coin there is still no comparison today between it and Wall Street Memes. We mentioned they are like two passing ships in the night but Wall Street Memes is more like a juggernaut. We are just four weeks away from the listings now and it looks positioned to be one of the most successful coins of this year. PEPE is in its sights but don't be surprised to see it overtake Shiba Inu and Dogecoin too.